World's largest district cooling plant opens at The Pearl Qatar.
The IDCP is the largest district cooling plant in the world and was unveiled in an inauguration ceremony on 9 November 2010. The plant will provide cooling for the 41,000 residents, hotels, shopping centres and other facilities on the 400-hectare man-made island The Pearl-Qatar, with a capacity of 31,000 tons of refrigeration.
"We are deeply honoured that the Deputy Premier Abdullah Bin Hamad Al-Attiyah officially opened Qatar Cool's new plant as this is a major milestone not only for our company but also the infrastructural development of Qatar," said Qatar Cool GM Fayad Al Khatib.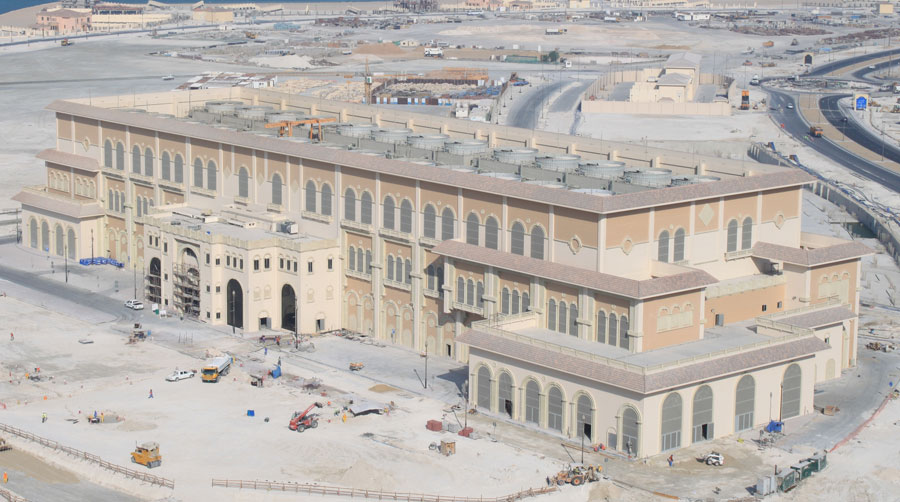 District cooling is a utility service which provides chilled water through a centralized cooling plant through a network of pipes to multiple residential, industrial and commercial buildings for air conditioning purposes.
District cooling helps the environment by increasing energy efficiency and reducing environmental emissions including air pollution, the greenhouse gas (GHG) carbon dioxide (CO2) and ozone-destroying refrigerants.
Qatar Cool's combined plants in Doha are projected to save about 250 million kg of CO2 annually which is the equivalent to burning 581,395 barrels of oil, the amount of carbon dioxide emitted from 45, 779 vehicles over a year or the planting of 25 million trees.
The importance of the new plant is also underscored by the fact that the International District Energy Association (IDEA) will hold their 5th Middle Eastern conference "Greener Buildings, Smarter Grid" for the first time in Doha on 8-9 November 2010 with international delegates attending the formal inauguration of the world's largest district cooling plant.
About Qatar Cool
Qatar Cool's aim is to provide efficient district cooling solutions and services for commercial and residential projects in Qatar. Their district cooling operations in the West Bay area of Doha – consisting of two plants covering 10 square kilometres – is currently supplying over 67,000 refrigerating tons of cooling, serving more than 45 towers used for residential, commercial and recreational purposes.
The capacity of both plants is enough to supply about two million square meters of air conditioned area. Qatar Cool is also commissioned to provide district cooling for The Pearl-Qatar. District Cooling is an important feature in The Pearl's advanced infrastructure.
It will be available throughout the island with a requirement of 130,000 tons of refrigeration when fully occupied. To supply this demand, construction of the Qatar Cool Integrated District Cooling Plant on the island is now complete and the plant is operational.
About District Cooling
District Cooling provides chilled water from a cooling plant through a network of pipes to multiple residential, industrial and commercial buildings for air conditioning purposes. Qatar witnessed the first commercial district cooling plant in 2006, which is owned and operated by Qatar Cool.
Qatar Cool's district cooling can save between 40 to 60 percent of the required power over conventional systems. The other benefit of district cooling for Qatar is that less usage of power means less harmful emissions, less noise, and less refrigerant leakage.
The economic benefits of district cooling are enjoyed by both owner and tenant, where capital costs of control panels, internal power distribution, annual maintenance and power consumption inside the building are reduced.