Al Dhabi Scaffolding presents a full range of formwork, scaffolding and construction platforms.
Al Dhabi Scaffolding is dedicated to providing the construction industry with concrete systems that meet the demands of International and British Standards and Codes; while ensuring that such material and equipment is readily available for the Group's construction activities and for supply to other contractors both locally and internationally.
A workforce of individuals, comprising of skilled technicians, internationally trained managers and highly qualified teams of structural engineers, are constantly immersed in the design and development of forming, decking and scaffolding systems. The goal of our system is to minimize the number of parts and formwork accessories, used to simplify and speed up erection and dismantling, ultimately leading to labor savings.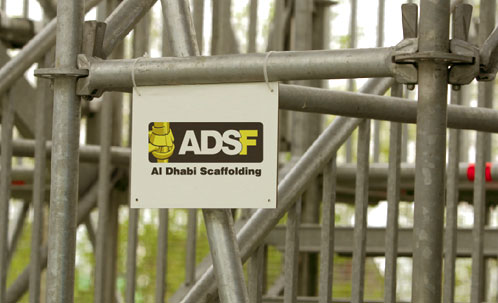 ADSF distinguishes itself from other scaffolding companies by offering complete turnkey scaffolding solutions. ADSF consists of three specialized divisions: rental, erection and manufacturing - which seamlessly work in conjunction with each other to provide innovative, cost-effective and timely solutions to all your scaffolding needs.
ADSF team produces the highest quality product for all form and false work solutions. With using the highest quality materials, ADSF delivers a product that can stand time after time the harsh environment of the construction world.
Products and comprehensive services offered by ADSF range from:

Slab Support and Decking with ADSLock / Kwick Stage System
Wall Formwork with Heavy Duty Soldiers
Access Scaffolding with ADSLock / HD Kwick Stage System
Medium and Heavy Duty Props
Light Weight Access Scaffolding - Korean and Half Ladder Frames
Light and Heavy Duty Mobile Towers
All Scaffolding Fittings, Tubes and Accessories
Quick Release Shuttering System
Aluminium Mobile Towers
Mast Climber System
Aluminium and Steel Cradles