The flourishing garden and landscaping industry in the region attracts international participation.
The support from regional government over the years, and the success of the exhibition in 2007 for the exhibitors, has led the landscaping and outdoor living industry to reconfirm the show as the most significant exhibition for the industry in the Middle East.
Three months after the resounding success of Garden+Landscaping Middle East in 2007, 60% of the show's capacity is already booked by international exhibitors. The event in 2008 is witnessing a year-on-year increase in the rate of booking by 60%, and 80% of the exhibiting companies from 2007 have reconfirmed participation.
Government authorities in Dubai alone are forecasting a spend of at least US$45 Million this year on landscaping projects along Dubai's roads. The numerous capital intensive construction projects under development in the Gulf region requires vast amounts of landscaping; add to this new golf courses and park facilities, and it is not surprising that it is currently estimated that over US$16.5 Billion is expected to be spent on gardens and landscaping over the next five years in the region.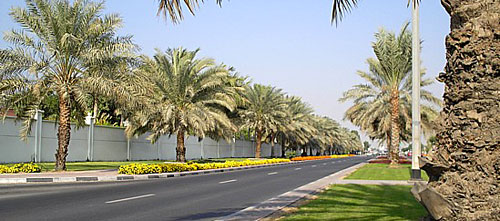 Highlighting the importance of exhibiting in Garden+Landscaping Middle East, Eckhard Pruy, CEO of Messe Frankfurt Middle East, organiser of this event, stated, 'Dubai is recognized as a major commercial and business hub in the Middle East. The show offers the perfect regional industry networking event to the sophisticated market of landscaping and outdoor architecture, which is currently expanding by over 12% per annum in the Middle East.'
Penny Whitefield from Feed 'N' Leave, said, 'We have never had such amazing response. Our product has been brought to the region for the first time from UK and the queries have been brilliant. Our radio interview got us immediate visitor response. We have had queries from Turkey, Lebanon, Mauritius, India, Syria, Pakistan, Kuwait, Bahrain, and Saudi Arabia, to name a few.'
Garden+Landscaping Middle East in 2007 was heralded as the most reputed platform for sourcing, networking and gathering the most up-to-date happenings in the landscaping design and outdoor living industry. 2007 saw regional government bodies, Road & Transport Authority (RTA) and Dubai Municipality present their high profile projects only at this exhibition.
Mr. Gavin Morlini, the senior show manager of Garden+Landscaping Middle East stated, 'Dubai Municipality has yet again reconfirmed its participation for 2008 and will support the show as an important event for the Middle East's escalating landscaping and outdoor industry.'
The exhibitors are presented with an opportunity to capitalize on this rapidly increasing industry and raise their company profile in the Middle East. 89% of the exhibitors last year stated that Garden+Landscaping Middle East is crucial to their marketing activity in the region. From the 8,000 unique visitors that attended the exhibition in 2007, 95% were directly involved in the onsite purchasing decision.