Emirates Designer Stone to set up engineered stone manufacturing plant in TechnoPark
Emirates Designer Stone will invest US$220 million to set up a high-tech engineered quartz stone manufacturing plant in TechnoPark, the science and technology facilitator of Economic Zones World.
The company, which has exclusive rights to manufacture engineered quartz stones in the UAE using state of the art Italian Breton patented technology, will set up five Breton high-tech production plants in the next two years. The first of these technologically superior plants is being set up with an investment of US$46 million.
Under the Breton's high-tech production process, a mixture of 93% quartz and 7% polyester resin is pressed into slabs (or larger blocks) using Breton's 'vibrocompression vacuum process'. After curing, the slabs are cut into sheets, which then serve as an ideal substitute to natural stone in a variety of flooring, wall cladding and kitchen bench-top products. The investment is expected to generate over US$815 million in turnover within the next 5 years.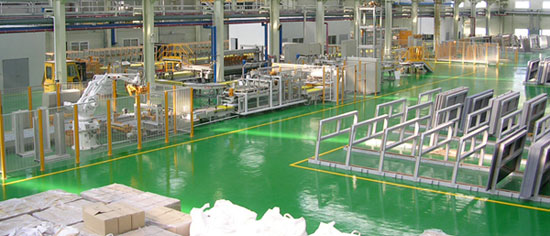 Speaking on the investment, Mr. Mohammed Rachid, Managing Partner Emirates Designer-Stone said: "Engineered quartz stone is a substitute for natural stone, with its exact appearance, but requires no maintenance, does not absorb water, is scratch resistant, and acid resistant. Our range of flooring, wall cladding and kitchen bench-top products are designed for high-profile development projects."
"Around 70 percent of our production of the engineered quartz production will be for the international market, namely North America, Europe and Australia. TechnoPark is thus the ideal location for our project because of its close proximity to Jebel Ali Port and the upcoming Jebel Ali International airport." Mr. Rachid added.
Hamad al Hashemi, Managing Director TechnoPark said: "TechnoPark is the ideal place for development and use of new and innovative products, production processes and technologies. We are extremely proud to be host to a high-tech company like Emirates Designer Stone, which uses state of the art technology to produce everyday solutions."
"Our partnership with Emirates Designer Stone is obvious evidence on our diversified service platform that has enabled us to expand our operation spectrum and commitment. This partnership is an additional indicator of our progressive success and ability to provide various clients with the latest mature technologies to successfully establish their businesses at TechnoPark," Al Hashemi added.