Seminar on the use of artistic glass in interior design by Assoication of Professional Interior Designers.
Glass - a medium of art that can be traced back 2500 years has seen a resurgence in the modern era. With seemingly unlimited possibilities artists have proven now that imagination is the only limit. Likewise, from being an indoor object, modern technology has developed glass to withstand the elements and replace conventional interior and exterior construction. The Age of Glass is now.
Magnifying - Glass + Art
Venue: SAS Radisson Hotel, Dubai Media City
Date: Saturday, September 8, 2007
Time: 6.00 to 9.00 PM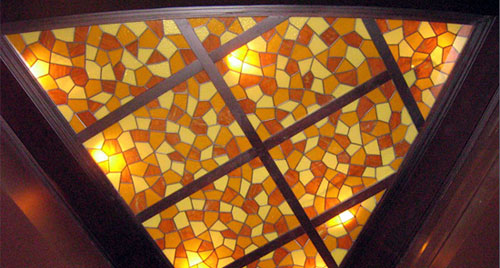 Speakers at the seminar will be:
Frank van den Ham, Netherlands
'Reflecting a world in glass' He is an internationally respected artist with an impressive biography. His objects are exhibited all over the world and can be found in many international museum collections. He will be speaking on art in glass especially glass fusing and its techniques with an emphasis on glass used in architecture and interiors. He will also do a presentation on the technique of glass fusing and its possibilities and limitations.
Gill Hobson, United Kingdom
Gill Hobson has been a consulting artist, designer and maker in glass for a number of years. She trained in Three Dimensional Design specialising in Ceramics with Glass working within the UK domestic & giftware industry and was a Visiting Lecturer and Specialist Course Leader in Glass at the University of Central England. Gill works at a variety of scales to create artworks for domestic, corporate an commercial environments.
Tony Campbell, United Kingdom
Founder of Creative Glass and Member of Steering Group of Cohesion- Glass Makers Network. He works with Clients, and other specialists such as Structural Engineers, Steel Workers, Lighting Engineers to make Projects happen, and, to create opportunities for the others to really show what they can do." Currently involved in other areas such as Regional Regeneration, Chair of Stockton Renaissance Economic Regeneration Partnership, Chair of Tees Valley Arts.
Arthur Millwood, United Arab Emirates
He entered the Flat Glass Industry at Pilkington Brothers Ltd in St Helens , UK , in 1960 after completing a Masters Degree at Aberdeen University. He has mastered the incredible technological revolution which has affected every aspect of the Industry since then, and today is the Technical Consultant for Emirates Glass LLC , the leading UAE producer of energy-efficient architectural facade glass. He has occupied similar positions elsewhere in the Middle East since 1992 continuously and is also a member of the newly-formed Emirates Green Building Council.
The seminar is sponsored by Creative Glass Graphics LLC, Dubai
ATTENDANCE IS FREE OF CHARGE AND LIMITED TO 120 SEATS. PLEASE REGISTER IN ADVANCE