UAE manufacturers confident on growth.
Participants at the second Middle East Manufacturing Exhibition (MEMEX), which concluded recently at the Abu Dhabi National Exhibition Centre, remained confident of steady sales growth throughout the region's manufacturing sector in spite of the global downturn, according to the event organisers.
"MEMEX clearly demonstrated that the United Arab Emirates and the Arabian Gulf in general remains serious about major investment in its industrial manufacturing base," said Tim Wilson, the Exhibition Manager for the event organised by IIR Middle East.
Engineer Jaber Hareb Al Khaili, CEO of the Abu Dhabi Higher Corporation for Specialized Economic Zones (ZonesCorp), who opened the show echoed that sentiment. "I am positive about the future of the manufacturing sector in the UAE," he said. "We have over 500 factories within ZonesCorp alone worth billions of dollars. Due to the resilience of the UAE economy, demand is still strong and that will undoubtedly continue."
According to official government figures the total cumulative industrial capital value of all non-oil and gas industrial projects in the UAE already exceeds US$20 billion, creating 290,000 jobs.
"With the demand for finished products, undiminished, it is hardly surprising that the industry is witnessing these levels of investment," commented Wilson.
"Many economists estimate that the UAE economy will still grow at around 4% this year. Admittedly that supports the view that the UAE economy will slow this year, but it is healthy when compared with many of the industrialised western and indeed Asian economies where manufacturing output has now virtually ground to a halt," he added.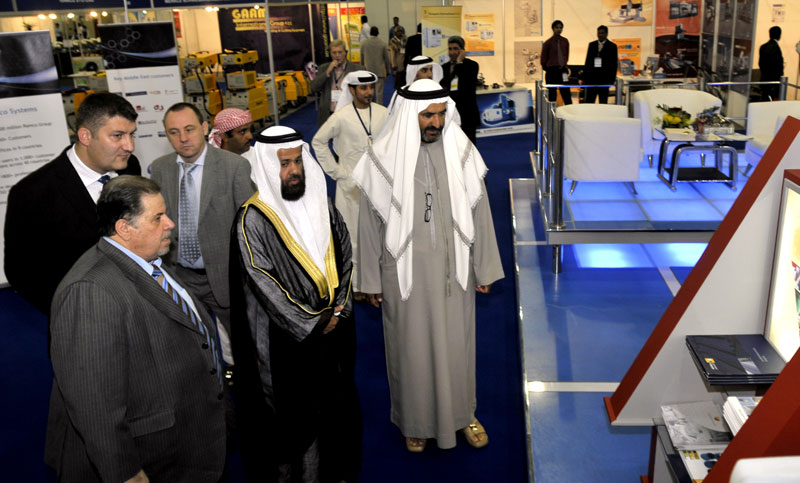 However MEMEX was not just about physical manufacturing, public and private sector organisations were equally keen to consult overseas experts according to Torsten Heck, Managing Partner at Stuttgart, Germany-based Fichtner Bauconsulting.
"Eng. Al Khaili the CEO of ZonesCorp visited our stand. He was impressed with the company's profile and the key role German consultancies and their technologies play in the development of the UAE manufacturing industry. German companies are now involved in many projects throughout the UAE, it is a real growth area for us," he said.
MEMEX is a key a platform for regional industrial manufacturers to meet local, regional and international suppliers who showcased leading industry suppliers from 16 different countries displaying over 100 brands. Main exhibit sectors included machinery and machine tools, welding, joining and heat treatment, automation and robotics, measuring instruments, ERP solutions and manufacturing zones.
"The clear need to diversify regional economies away from their dependency on oil revenues has also been highlighted over the past few months. The global market turmoil in the final quarter of 2008 in particular has come as a timely reminder to regional policy makers that oil prices might well stay below US$50 per barrel for some time yet due to ample global oil stocks and the economic downturn."
Another highlight at MEMEX was the Industryscape conference, which ran in parallel with the exhibition. This provided a dedicated platform for stakeholders from investment and regulatory bodies to leaders in industry to address the opportunities and challenges regarding the future of the Middle East's industrial landscape.
MEMEX will take place at ADNEC once again later this year on 18-20 October 2009.