ACTS and ACI–Lebanon Chapter challenged students to make art out of concrete
Advanced Construction Technology Services (ACTS), a consulting organization in the field of construction materials and geotechnical engineering, has announced the winners of its most recent student competition called "The Art of Concrete". The tandem of Sara Attar and Nisrine Attar from Beirut Arab University – Debbieh got the highest scores and received the top prize of a trip to the USA to attend the ACI Fall Convention 2015.

ACTS made the announcement during the recent staging of Future Concrete Lebanon 2015, an annual international conference considered as Middle East's premier learning event for the construction industry. Organised by ACTS and ACI–Lebanon Chapter, Future Concrete Lebanon 2015 was held under the patronage of the Order of Engineers and Architects (OEA) in Beirut, and in cooperation with fib (federation international du beton), ASTM International (American Society for Testing and Materials), and ACI (American Concrete Institute).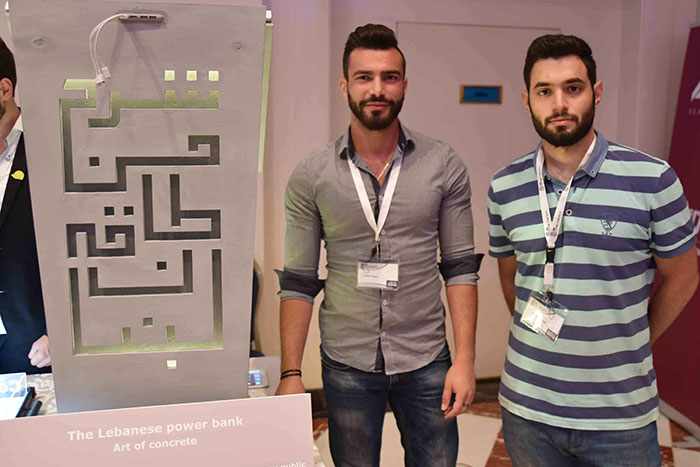 The 'Art of Concrete' student competition, which attracted 17 groups from seven Lebanon-based universities, aimed to showcase the artistic nature of concrete and challenged the students to create their original works of art and display concrete's many varieties of form, function, and beauty. Entries received came in in the form of sculptures, paintings, drawings, photographs, and scale models. A panel of judges composed of Mr. Adib El Hachem, Sales and Marketing Director, Cimenterie Nationale & Chairman and CEO, Al Sabeh Beton; Mr. Elie Gebrayel, Chairman and CEO, Erga Group; and, Mr. Rodolphe Mattar, General Manager, Bureau D'etudes Rodolphe Mattar, evaluated the entries to the contest. The entries were also displayed during the conference where attendees got the opportunity to vote on their favorite piece.

These are the winning entries based on final scores:

1. Glorifying Concrete by Sara Attar and Nisrine Attar (Beirut Arab University – Debbieh)
A human scale model that aimed to articulate the importance of concrete in our life, that concrete is vital for human existence. The idea behind this project is to glorify and show the remarkable properties that concrete has, making it the leading building material of all.

2. United for Lebanon by Mohamad Khaled (Lebanese University – Tripoli)
The scale model is composed of two parts which represents the two split Lebanese communities. They are built aligned together to form an illuminated cedar image, depicting "United for Lebanon".

3. The Lebanese Power Bank by Teddy Abou Jaoude & Ricardo Jarjoura (Lebanese University – Roumieh & Holy Spirit University of Kaslik)
The project is an urban furniture that can be installed in many public or private locations. The sculpture merges several elements all of which are concrete: 3D illustrations from five separate landmarks in Lebanon; Arabic calligraphy engraved on the main elevation that indicates the function of the project; a functional power bank alimented by a solar panel that is can be used to charge mobiles or any other electronic devices; and, a concrete luminaire that enhances and lightens up the outdoors at night.

Sara and Nisrine, as the first-placed team, were rewarded a trip that would take them to Denver, Colorado, USA to attend the ACI Fall Convention this November. Second and third place winners received a cash award. The awards were sponsored by Cimenterie Nationale.

Engr. Khaled Awad, Chairman of ACTS, said, "This year's competition exceeded our expectations. Their original works of art just show how remarkable their passion is to apply ingenuity and find creative solutions to rise to the challenge. This only further motivates us at ACTS to continue with our commitment of providing a venue for the youth to engage in advanced learning and training, expose them to various concrete projects and challenges, and help them hone their skills."