American hardwood seating installations steal the spotlight at 'Design Dine Donate', Dubai
Eight chairs and seats that were designed using American hardwoods and veneers formed the centerpiece for the recently held 'Design Dine Donate' charity gala in Dubai. The project was a collaboration between the American Hardwood Export Council (AHEC), the leading international trade association for the American hardwood industry and Seekers Furnishing, a bespoke joinery practice in Dubai. The eight seating installations, which were produced in American tulipwood, red oak, ash and black walnut and also incorporated sustainable fabrics from Warwick Australia, were auctioned off during the night with the proceeds benefiting SURGE, a global non-profit organization that brings life-sustaining water to those most in need, while increasing awareness of the global crisis.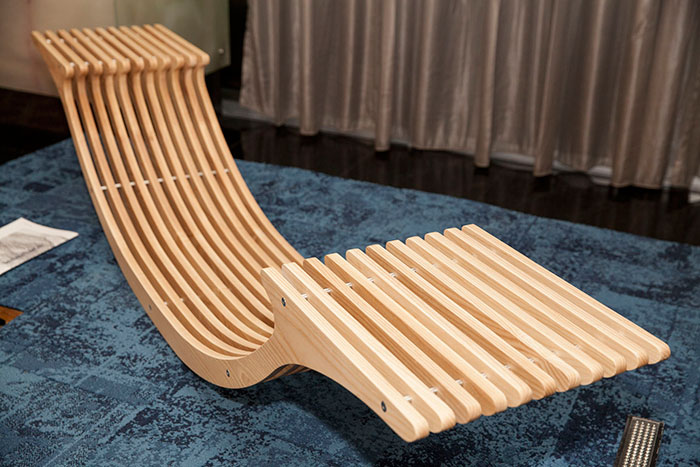 Distrack' armchair in tulipwood by Dozign Lab.
Given that the brief was very open, the challenge for the designers and Seekers was to produce a functional seating installation using sustainable American hardwoods and fabrics. The final designs included the 'Pauline' rocking chair in walnut by Aedas Interiors; 'Distrack' armchair in tulipwood by Dozign Lab; 'Tread' in walnut by Al Tayer Stocks; 'Quirkis' in red oak by Tony Archibold; 'S' in walnut by ISG Middle East; 'Joy' in ash by dwp Middle East; 'Linx' bench in ash and walnut by Artillery; and 'Niyyah' in ash by Perkins & Will. The chairs were also judged by Bruce Paget, Senior Interior Design Lecturer, Heriot-Watt University in Dubai, Isabel Pintado, Managing Director, LW Design Group and Robert Bankes, Production Manager, Khansaheb Joinery, who all unanimously adjudged 'Quirkis' to be the winner on the night.

"It is one thing to design something that will physically survive the wear and tear of a long life, it is quite another to design a chair or seat that has the aesthetic qualities that will remain relevant long into the future," said Marita Peters, Business Development Manager, Seekers Furnishing. "SURGE is a cause that is very close to us so when the idea of a sustainable design initiative was proposed by Laila Al Yousuf of Perkins Will who has been a staunch supporter of the cause since its UAE launch, we were keen to participate. It entailed inviting leading designers in Dubai to design a seat for the cause: a chair, a stool, a bench or anything else that could be sat upon. Over the course of the past few months, we worked closely with each of the designers and the final results are a testament to the creativity in the industry and the versatility of American hardwoods."

Prior to 'Design Dine Donate', the chairs were on display at A4 Space, a co-working space in Alserkal Avenue, as part of the Quoz Arts Festival from November 8-14, 2014. Seekers Furnishing manufactured seven of the chairs whilst 'Quirkis' was built by Khansaheb Joinery. All of the American hardwood lumber for the project was supplied by Chabros International Group and all of the veneers were supplied by Fritz Kohl Middle East LLC. In addition, sustainable fabrics made from re-cycled plastic water bottles were supplied for the project by Warwick Australia. With the chairs having been auctioned off to the highest bidder on the night, 100 percent of the proceeds are now being used directly to fund sustainable water projects across the globe.

"Our collaboration with Seekers Furnishing has resulted in a fascinating approach to working with an age-old material. This unique exercise has not only thrown the spotlight on the beauty of American hardwoods but it has also helped in increasing the understanding of wood as a material for the designers involved with this project, which formed a central part of our 'Middle East Design - American Hardwood' initiative," said Roderick Wiles, AHEC Director for Africa, Middle East, South Asia and Oceania. "Celebrating the versatility of timber in design and the enormous variety that can be achieved with one material, the quality and diversity of the chairs produced are reflective of the depth in understanding of wood and skilled craftsmanship at Seekers. AHEC's continued support for creative design projects such as 'Design Dine Donate' demonstrates the performance potential of this sustainable material and provides valuable inspiration."