Assa Abloy launches innovative master key solution
ASSA ABLOY Security Solutions Middle East recently launched CY110, an exclusive European patented master key solution with reversible key technology.

CY110 is designed and manufactured at ASSA ABLOY's European Centre of Excellence for cylinders and meets the highest standards of security, durability and convenience. ASSA ABLOY initiated a comprehensive customer survey in Europe, Middle East and Africa to draw insights based on which it developed this particular cylinder technology designed to meet customer needs.

The smooth-edged symmetrical faces of the CY110 cylinder and the user-friendly reversible key design ensure smooth operation as the key can be inserted into the cylinder either way up. The strong, easy-to-hold key is an all-new stylish Italian design crafted in contemporary high quality lasting nickel silver.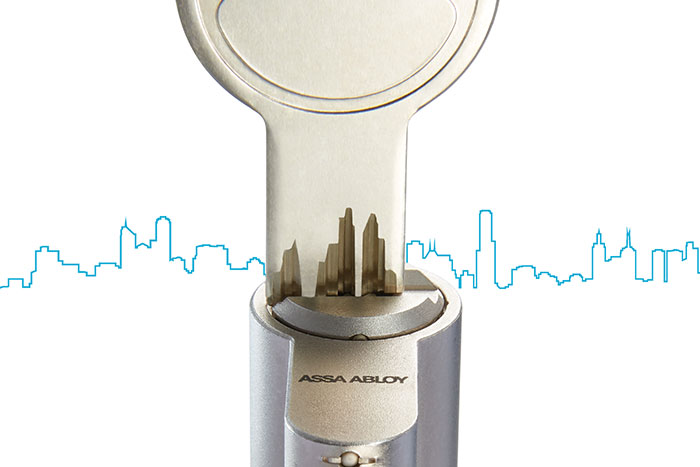 CY110 features patented key technology with expected patent lifetime until 2036. It has been certified to the toughest requirements of EN 1303:2015, including five minutes drilling and 15kN pulling and it is pick and bump resistant (KD only). With an outstanding corrosion resistance of 240 hours it exceeds the standard average of 96 hours and its durability reaches 500,000 cycles in an accelerated test.

Nassim Abu Yousef, Chief Executive Officer of ASSA ABLOY Security Solutions Middle East commented: "Keys for every cylinder are delivered with an individual security card to prevent unauthorised key duplication. Replacement keys are handled by our network of authorised dealers on presentation of the security card and with each individual request being further authorised by ASSA ABLOY". Yousef added: "We keep secure records of master key systems to support our dealers in the prompt delivery of master key system extensions to their customers and ensure a smooth process".

The CY110 is available in three models – a double cylinder (with optional emergency cam for single point locks allowing the cylinder to be utilised from either side even when the key is in the lock), a single cylinder (delivered as a standard with multi-position cam,) and a key and turn cylinder (with ergonomic, easy to rotate, solid brass thumb turn that matches perfectly the body finish).

As part of ASSA ABLOY's commitment to sustainability, an independent, third party verified Environmental Product Declaration (EPD) is available for CY110 in order to support architects and specifiers in the selection of solutions suitable for green building projects.