Avant wins global Green Era Award for sustainable flooring solutions
Avant Holding GmbH, the leading German company that produces high quality construction and interior products for commercial and domestic sectors, bagged the coveted global 'Green Era Award' in recognition of its outstanding sustainable practices and environmental achievements.

The award, was conferred to Avant Holding officials at the Green Era Award Ceremony and the Green Economy Forum held in Germany recently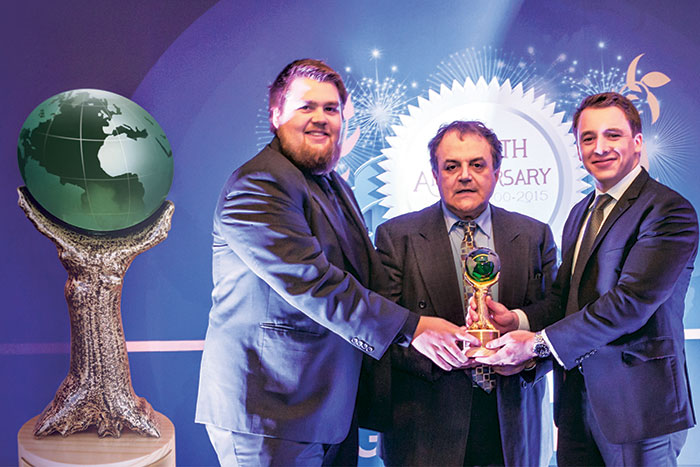 The Global Green Award has been set up to recognise true global sustainable exemplars including governmental institutions, green building councils, environmental agencies and green companies that have been innovative and creative in pursuing the sustainable imperative. Avant provides sustainable solutions to projects of any scale, bringing the elegance and beauty of nature to interior and exterior spaces without cutting down a single tree.

Commenting on this achievement, Mr. Antonio Varghese, Chairman and CEO of Avant Holding, said, "We are pleased and proud to win the global Green Era Award, which is an acknowledgement for our sustainable practices. Avant's several sustainable and environmentally-friendly initiatives resulted in company receiving this global recognition. We focus strongly on the philosophy of quality and sustainability in manufacturing the modern technology-backed solutions for the construction and infra-development sectors."

"Avant products are reusable, extremely durable and incredibly easy to install and maintain. Avant encourages everyone to experience its range of sustainable products wherever possible, and embrace the values for saving the planet. We will continue to offer the world's best sustainable interior solutions in the Middle East, European and Asian markets and beyond," he added.

Avant Holding manufactures a growing line of environment-friendly interior products -- Flooring, Roofing, Paneling and Ceiling -- all under the "Avant" brand name to cater to commercial and domestic sectors alike. Available in more than 20 countries, the avant-garde products have been a global success; owing to its high-quality and focus on sustainability.

The Green Era Award Ceremony and the Green Economy Forum was established in response to demand of the members in the organisation. The Forum in Germany brought together business across all sectors of the green economy, from waste management to renewable energy to green buildings.

The awards are conferred on the selected companies, based on information, polls and voting. The criteria for selection include reports carried out periodically by the Management and Consulting Association firms in Europe. The award serves the interests of the nominated companies as a testimony of their efforts to achieve constant improvements in technological development and quality.

The voting mechanism, carried out through Emails, Internet and within the nominated companies, focused on sustainable practices of the participating companies. In addition to this, the Consulting Association gathers information from various sources including news reports and features, advertising agencies, consultancy companies, trade fairs and exhibitions, chambers of commerce, and embassies, etc. The online macro poll is analysed by a selection committee to finalise the winners.

Avant's energy-efficient products are manufactured with composite technology, cutting-edge materials and elegant designs, while conserving the planet earth. The products cater to a vast array of sectors; including residential, commercial, corporate, retail, hospitality, transport and marine. Avant's strong flooring panels can withstand the pressures of foot traffic at hotels, airports, shopping malls, office buildings and indoor stadiums.

The flooring's zero absorption properties reduce air conditioner load, saving 35 per cent of electricity use and resulting in lower carbon emissions. Avant Flooring, with its uncompromising quality, also comes with a 15-year long interior warranty.