Benjamin Moore Paints the Middle East in Unmatched Hues
It's a colourful world as premium paint brand Benjamin Moore adds swatches of rich, long-lasting vibrancy to the Middle East's iconic spaces and structures. The brand, which first entered the UAE market in 2012, has made a vibrant impact region-wide with 12 outlets serving the UAE, Qatar, Kuwait, Lebanon, Pakistan, Bahrain and Oman.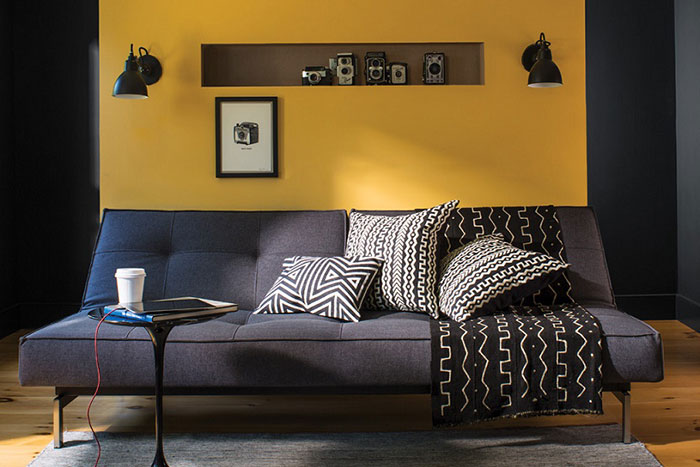 Along the way, Benjamin Moore's signature shades of colour have adorned the likes of Kempinski Hotel-Mall of the Emirates, Address Downtown, Shangri-La Abu Dhabi, and Waldorf Astoria The Palm. The brand can also be seen in a multitude of corporate offices - Cisco, HSBC, Novartis and ENBD, just to name a few. Clients are drawn to the brand's incomparable colour aesthetic and subtle paint undertones. They value the durability, quality and precise engineering that each finish brings to the table. But the most important element of the Benjamin Moore brand is customer service and involvement. Store staff show clients the brand's entire colour palette and are trained to make preliminary recommendations. Customers wanting additional guidance can engage the in-store colour specialist for a premises visit. Choosing colour is only the first step. Once the hue is locked down, clients explore a range of premium long-lasting products and finishes, with each suitable for a specific purpose. Those looking to paint bathrooms and poolside, for instance, would do well with Benjamin Moore's Aura Bath & Spa – a formulation specially designed for high-humidity environments. Meanwhile, Benjamin Moore's ceiling paint is ultra flat and ideal for hiding undulations and contusions. Colour is always an experience with Benjamin Moore. The idea is to help clients visualise how a particular paint will look in their project. The brand offers a range of fan decks representing some 3,500 choices. Expert staff members are on standby to ensure choice never gets overwhelming. Technology also lends a helping hand, with the free Colour Capture App letting clients take a picture of a particular colour they like anywhere they are. The app then finds a matching Benjamin Moore shade, taking all the hassle out of inspiration. Benjamin Moore's website offers Personal Color Viewer, another exceptional tool where clients can explore what different colours might look like in their spaces. Customers upload room photos, or choose from sample photos, and then overlay colours to create their personal mood board before venturing out to shop. "At Benjamin Moore, we cherish colour and ensure that the selection and painting process is an experience to enjoy. We create a very personalised and enjoyable client journey with a range of technological assists to simplify the decision-making process. Our proposition combines an extraordinarily wide range of vibrant hues mated to specific products suitable for special applications. And our expert teams and technology help create a colourful experience that is memorable in itself," Farooq Paracha, Managing Director, Benjamin Moore Middle East. Benjamin Moore's main calling card is perfection in colour creation. More than 100 chemists, chemical engineers, technicians and support staff work tirelessly to develop long-lasting vibrant formulations that stand apart. Apart from durability and formulating the right hues, Benjamin Moore's paint experts also engineer for environmental friendliness, healthy living, ease of use and exceptional durability. Most Benjamin Moore products are Zero VOC, which makes them ideal for environmental protection. Created by the eponymous Benjamin Moore in 1883, Benjamin Moore the brand continues its founder's vision of producing the industry's highest quality paints, stains and finishes, and delivering them directly to customers. The brand is already adding a colourful lilt to work and play in the UAE, and regionwide. Now, Benjamin Moore is taking its multi-coloured story to East Africa within the next two years, while also opening five new outlets across GCC markets.