BIG5 EXCLUSIVE: AllightPrimax Showcase New Range of SMC Towers
AllightPrimax has again thrown down the gauntlet in the metro mobile lighting space with news that it will distribute the SMC tower range. which will be exclusively at Big5 Dubai in 2015.

Under the terms of the strategic distribution partnership with UK-based manufacturer Morris Site Machinery, the nine-strong SMC line-up of LED, solar and metal hallide towers will slot into the Allight range alongside the world-beating MineSpec models and be available exclusively from AllightPrimax throughout Australia and New Zealand. The range will also be available through the AllightPrimax network of active overseas territories. These include South East Asia, the Americas, the Middle East - and Africa, where 24 units have already been snapped up by AllightPrimax Dealer Barloworld Power.

For AllightPrimax the best-selling 4kW TL-90 LED and metal halide variants and the Solar-powered option will all offer construction and civil works customers a robust, safe and economical European alternative to the influx of towers from the USA and China.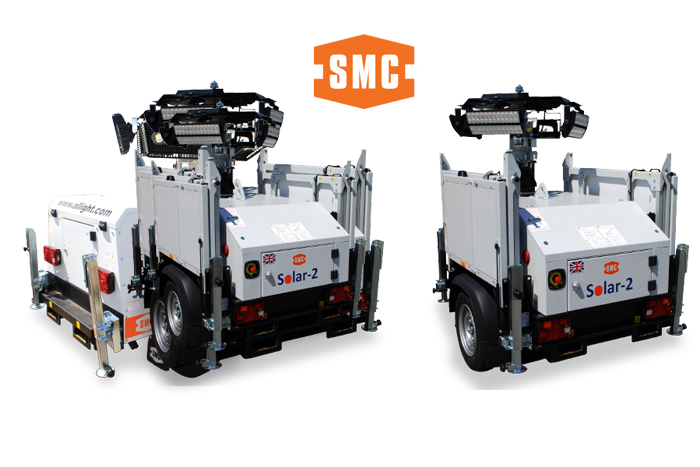 Grant Mack, AllightPrimax GM - Mobile Light said: "We've been looking for a tight-fit metro lighting partner for some time, in what has become a very congested market in recent years. The technology behind the SMC brand is unquestionable and we're delighted to have also landed on a team which shares our core values and commitment to innovation and quality. Early indications suggest we'll see traction for this offering very quickly."

For Morris Site Machinery, the move is the latest step in a confident campaign to power its growth through international sales and aftermarket partners.

Chief Executive Chris Morris said: "As a business, securing the right partners is as essential as providing the ultimate product. This new partnership locks down a very important part of the world for us and will strengthen our hold and impact in emerging territories. It signals an exciting step change for our global ambitions."

Allight is no stranger to the metro mobile lighting space having competed for 20 years with its own locally-built 4kW entry level towers. The decision to switch to a distribution model - the first in its history, reflects demand for its larger MineSpec and SuperSkid units and the decision to focus on boosting their production for the key mining-centric markets where it remains the dominant player.

Much of SMC's success has stemmed from its British-built durability, small footprint and whisper quiet sound levels of just 60dBA (at seven metres). This has made it the tower of choice for projects such as metropolitan road works around Europe and Russia; where noise restrictions pose a problem for many other tower brands.

As well as being compact and economical, the 2015 SMC TL-90 is also expected to win the environmental vote. It is powered by a clean, quiet, fuel efficient Kubota D905-BG engine and comes with fuel spill containment tray as standard. The TL-90XTRA comes with four efficient 1000w metal halide lamps and the TL-90LED with five 240w LED lamps. All models have hydraulic mast raise and light tilt.

"The strategic decision to mothball further development in the 4kW space and focus on our 6kW+ specialism, was the right one for us and has enabled us to pioneer new 'large light' innovations," added Grant Mack. "When we evaluated the scale of demand for entry-level light from contractors and equipment rental businesses, we decided to seek a strategic partner with a recognised and proven brand and we're delighted to be able to throw our weight and reputation behind SMC."

"Bringing such a trusted European brand into a range of Allight lighting towers from which we already sell over 3,000 units a year worldwide, means all the end-user advantages of the SMC range can be made available to the customers we've been supplying and supporting for over 20 years. When you add the after-market support from our nationwide branch network, it's a hell of a cocktail and is really going to raise the bar."