Cofely Besix Facility Management staff receive first accreditation in the region from MEFMA
Ten facility managers from Cofely Besix Facility Management are the first in the region to receive official accreditation from the Middle East Facilities Management Association (MEFMA).
The team become the first official MEFMA Associate facility managers in the region, having completed five days of extensive training in operations and management, project management, finance and business essentials, sustainability in facilities management and leadership and strategy.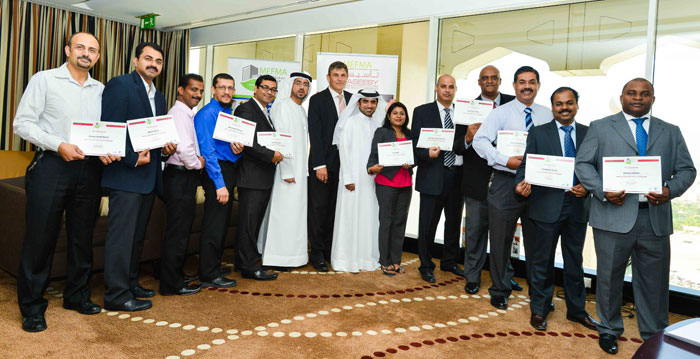 "The key for customers is in knowing that they get an accredited standard of knowledge and knowhow in the manager. This allows the customer to have confidence that their assets are in the best hands going forward allowing the process of outsourcing will have the greatest benefits, "said Ian Harfield, General Manager of Cofely Besix Facility Management.
Harfield also praised his team for their commitment in completing the foundation courses successfully, saying: "It is a good demonstration that when a company invests in its staff, the staff respond to the challenge, understanding the added value given by the learning opportunity to not only themselves, but also how their new skills and knowledge can benefit our customers in the long run.
"It is always rewarding as a manager to see staff developing and even more so when through MEFMA when we have been able progress their learning on a structured and accredited course, which goes with our ethos of Cofely Besix Facility Management adding value to our staff," added Harfield.
Supported by the Real Estate Regulatory Agency (RERA) as a non-profit association, MEFMA provides a dedicated platform for facility management professionals, wider construction industry stakeholders and owner associations.
"I would like to take this opportunity to congratulate Cofely Besix on their most auspicious certificates ceremony, and congratulate them overall for their effort and success rate," said Ahmed Hussain, member of the MEFMA Board of Directors.
"This marks the vision of Cofely Besix to educate their staff highlighting their determination to improve their overall performance with a competent, educated workforce. Being one of the MEFMA Board of Directors I am very proud to see the growth of MEFMA and its contribution to the region's FM industry.
"MEFMA has become the dedicated platform for providing specialized training course befitting the industry requirements and we are very happy to see that FM companies such as Cofely Besix are supporting their management team by providing certified MEFMA training. This will set them apart from their competition in this competitive industry," concluded Hussain.