DEWA lights Alathba Primary School playgrounds and entrance
Dubai Electricity and Water Authority (DEWA) has installed state-of-the-art solar-powered street-lighting and energy-efficient floodlights for Alathba Primary School for Girls in Dubai. The move supports DEWA's sustainable development strategy and its efforts to implement the rational use of energy and water, spread awareness on saving the environment, and conserve resources for generations to come.

The lights were installed at the entrance and playgrounds of the school, located in Al Khawaneej, Dubai. The school lacked sufficient outdoor lighting, which limited outdoor sporting events and other activities and programmes in the school's playground and nearby yards after sunset.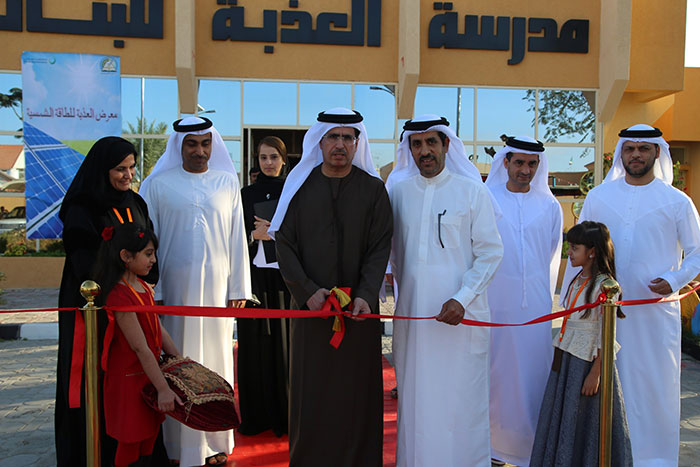 The inauguration ceremony was attended by HE Saeed Mohammed Al Tayer, MD & CEO of DEWA and HE Dr Ahmed Eid Al Mansouri, Director of Dubai Educational Zone. It was also attended by Waleed Salman, Executive Vice President of Strategy and Business Development, Dr. Yousef Ibrahim Al Akraf, Executive Vice President of Business Development and Human Resources, Khawla Al Mehairi, Vice President of Marketing and Corporate Communications at DEWA, a number of directors from DEWA and Dubai Educational Zone, DEWA and Alathba School staff, and students from Lootah Technical Centre.

"To achieve the Green Economy for Sustainable Development initiative, launched by His Highness Sheikh Mohammed bin Rashid Al Maktoum, Vice President and Prime Minister of the UAE and Ruler of Dubai, and the Dubai Integrated Energy Strategy 2030 to reduce energy demand by 30% by 2030 and diversify the energy mix in the Emirate to include 15% from solar power, DEWA works to protect the environment and save our resources. We do this by keeping up with the global environmental changes and developments to achieve environmental targets. We made sure we used environmentally-friendly lights in the school, some of which use renewable energy. This supports DEWA's efforts in energy management and the optimal use of our resources," said Al Tayer.

"This project is the fruit of collaboration between DEWA, under the leadership of His Excellency Saeed Mohammed Al Tayer, and Dubai Educational Zone. This collaboration resulted in the efforts by the school and greatly affected the mindset of students in terms of adopting solar power and actually using it in the school. These projects will be a training hub for students in the school and a model for other schools to follow," said Dr Al Mansouri.

DEWA sent a specialist team to review the school's playgrounds and entrance and install the necessary lighting. This is part of DEWA's commitment to all segments of society, including citizens, residents, and visitors. The team assessed the premises and installed state-of-the-art LED floodlights and solar-powered street lights for the school's main entrance and playgrounds.

DEWA works to support the sustainable development of the Emirate by implementing projects to develop society, support renewable and clean energy in the region, and sponsor innovative energy initiatives.