Enova and Mall of the Emirates unveil Rooftop Solar PV Plant
Majid Al Futtaim – the leading shopping mall, communities, retail and leisure pioneer across the Middle East, Africa and Asia – recently unveiled the first phase of Mall of the Emirates' solar photovoltaic (PV) plant, set to generate 3 GWh of 'clean' energy, saving up to AED 1.4 million on energy costs every year.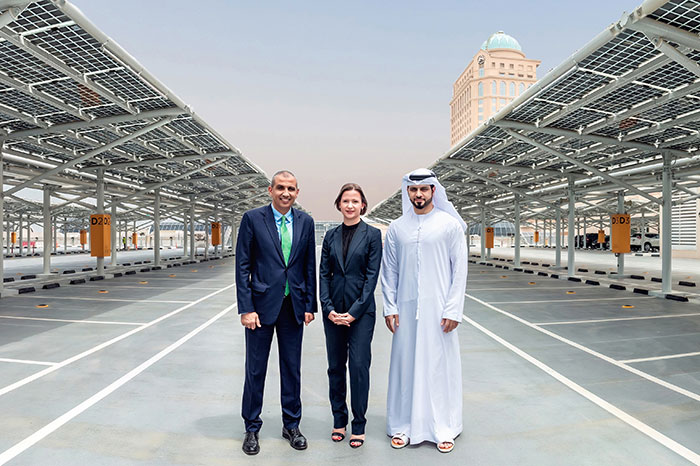 Led by Enova – the Middle East's leading energy and facilities management specialist – a total of 7,291 photovoltaic panels were fitted to 1,068 carports. Spanning over 11,996 sqm, the plant is equivalent to the size of nearly two football fields. The retrofit of the premises' existing car park structure is a regional first.

"Mall of the Emirates' renewable energy plant brings Majid Al Futtaim one step closer to our commitment to become 'Net Positive' in carbon and water by 2040. This new solar PV plant is set to reduce 2,500 tonnes of carbon dioxide (CO2) emissions every year, equivalent to taking 480 cars off the road," said Ibrahim Al'Zubi, Chief Sustainability Officer at Majid Al Futtaim-Holding.

"We encourage our clients to take a step further in their energy performance strategies by supporting them to not only implement energy conservation measures for increased energy efficiency, but also generate their own energy through on-site solar photovoltaic plants. We are a strong partner throughout the solar project lifecycle, from the conception with transparent feasibility studies, to the operation & maintenance with real-time monitoring after the solution installation. This integrated approach allows us to guarantee the performance and savings promised, so that our clients can achieve their ambitious sustainability targets while growing their business at the same time," said Anne Le Guennec, Chief Executive Officer for Enova.

The project is part of an initiative between Enova and Majid Al Futtaim's Shopping Malls business unit to install solar PV to power three of its shopping malls by 2018.The objective is to source a minimum of 7.5% of energy use on site via renewable energy at all new developments and a minimum of 5% in existing buildings. The work was completed in 10 weeks and the shopping centre remained fully operational throughout, resulting in minimal disruption to customers at one of the UAE's busiest malls.

A time-lapse video of the installation phase