Flexible work spaces key to future work practices.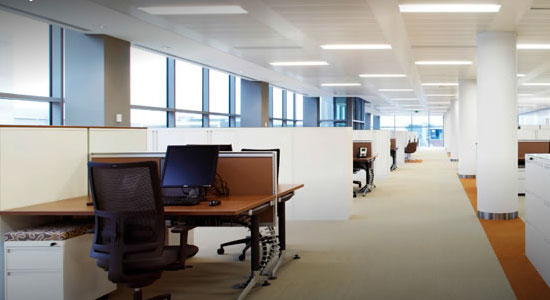 As modern employment options continue to evolve and move into the Middle East markets, research shows that companies internationally are re-evaluating their office needs for the future. Due to flexi-hours, job sharing, hot-desking and even tele-commuting, as fewer employees will need permanent desk space to perform their jobs.
All of this has a knock-on effect for office developments and workspace configurations. A study recently released by London-based commercial property firm Devono reveals that flexible working habits have altered the amount of space businesses need to provide per employee and still maintain their effectiveness.
According to the British Council for Offices (BCO) which is a recognised industry standard in Europe, when calculating office space requirements its Guide to Specification recommends 10 sqm as the average benchmark for office workplace density. However with the introduction of flexible working habits, firms could allocate a smaller amount of space Devono believes, which could provide for an immediate cost saving for companies.
Andrew Jackson, SAS International Director says, "By making less space work harder and smarter, companies will benefit from the significant cost savings and increased productivity of their workforce. This is the future of space fit-outs and as a leading interior fit-out provider, SAS ensures solutions, such as relocatable partitioning, that provide for the long-term and offer the flexibility that new employment practices will require."
While the oversupply of commercial space continues throughout the region, owners and developers realize that providing quality basic fit-out to meet long term company needs is their best advantage in the highly competitive commercial real estate market. It is this foresight into the future that will attract quality companies who will bring further value to the property over the course of their occupation.
Working on new build and refurbishment projects across the Middle East including Saudi Arabia, UAE and Kuwait, the high-quality, flexible solutions SAS International provide meets the demands of both owners and tenants for the long-term.