Flowcrete Conducts Toshiba's Anti-Static Floor Installation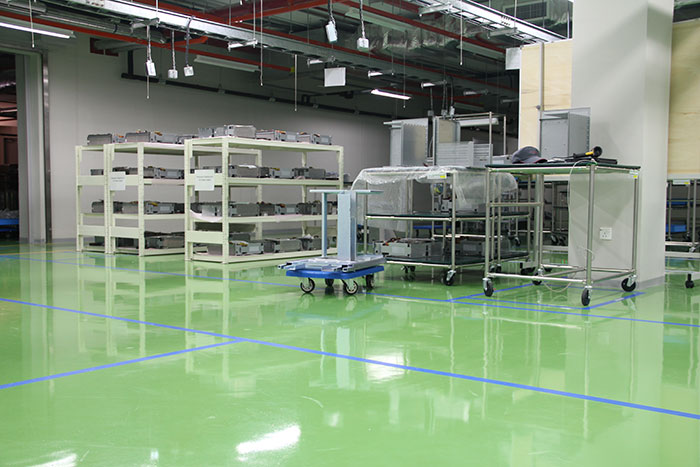 Toshiba Medical Systems Corporation is a leading worldwide provider of medical diagnostic imaging systems and comprehensive medical solutions, such as CT, X-ray and vascular, ultrasound, nuclear medicine and MRI systems, as well as information systems for medical institutions.

The multinational corporation has been providing medical products for over 80 years and its new Penang facility at the Bayan Lepas Industrial Park is the third to be set up outside of Japan, following the bases in Dalian, China and Campinas, Brazil and it will help Toshiba to cater to increasing demand from the global market. This is Malaysia's first ever diagnostic imaging systems manufacturing base and will specialise in X-Ray equipment for medical facilities.

The client required a flooring system that could achieve surface regularity and consistent uniform conductive readings and Flowcrete's Flowshield ESD Conductive, part of the resin flooring specialist's anti-static range, passed with flying colours.

Over a two-month period, beginning in September 2014, 4,000m2 of the anti-static, hardwearing, self-smoothing epoxy resin floor finish was installed throughout the manufacturing facility in Penang.

At the client's insistence, Flowcrete's technical team rigorously tested the Flowshield ESD system after installation to ensure that the floor's surface regularity was not compromised and that a uniform reading was achieved following the stringent conductive tests.

Flowshield ESD Conductive complies with BS2050, ANSI/ESDS2020, ASTM F150 Conductive, IEC 61340-4-1 and IEC 61340-4-5 requirements and is commonly used in laboratories, clean rooms, equipment testing areas in electronic, aerospace, automotive, printing and pharmaceutical plants.

The ESD conductive system provides a hard wearing, seamless, anti-static floor and is often used in dry processing areas where the floor is subjected to medium to heavy duty foot, trolley and pallet truck traffic.

Part of Flowcrete Asia's Anti-static range, with an attractive, light reflective appearance and hygienic, easy to clean finish, Flowshield ESD Conductive is a popular system for electrical manufacturers worldwide. Its hardwearing build up and high chemical and abrasion resistant properties ensure that companies not only have a decorative surface but a robust one too.