Free flow for all media.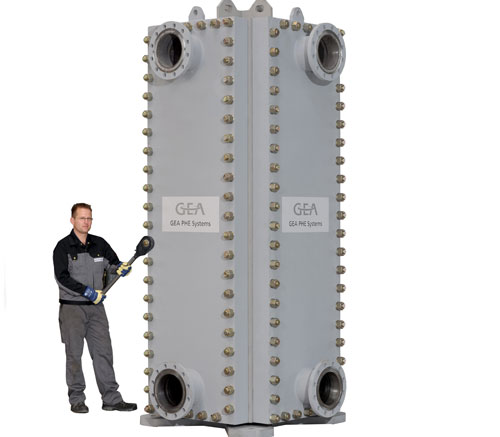 The GEABloc is a welded high-performance plate heat exchanger designed for extreme pressure and temperature ranges. These units feature high heat recovery rates, extremely low space requirements and a clearly lower price compared to conventional shell-and-tube heat exchangers.
At the Achema (Hall 4, Stand F 44) GEA is exhibiting its "welded flagship for the chemical industry" with Double Dimple pattern. The plate design guarantees free flow particularly for high-viscosity media with simultaneous low pressure loss when used as condenser in the vacuum range and reduces operating costs in the long term.
The free flow gap in the plate design ensures blockage-free operation with solids-loaded media. This extends operating periods and reduces maintenance time. Furthermore the unit features easy handling when opening the solid bolted housing. This allows quick access to the fully welded plate pack, which considerably simplifies cleaning and maintenance with resulting savings in both time and costs.
The connector arrangement is flexible and can be freely selected to match individual process requirements, the connecting nozzles being variable. This prevents any unnecessary pressure loss at the connection, leading to ideal flow in the plate pack. Constant flow characteristics are ensured to guarantee the required process reliability.
The Double Dimple pattern is the first choice when high-viscosity or solids-loaded media are involved and high heat transfer efficiency is simultaneously called for. The special plate design guarantees high turbulence combined with maximum stability. The arrangement of the numerous contact points is designed in such a way that a free flow gap is ensured. This reliably prevents any deposits forming in the flow channels.
The free flow automatically causes a low pressure loss and, particularly with steam applications, this leads to process optimization, as the gases flow through the unit with very little resistance. And these are strengths that predestine the GEABloc for condensation applications under vacuum.
The Comb Technology used in the GEABloc Series ensures a stable and reliable connection between the heat exchanger plate pack and the pressure-bearing components. This stable overall structure increases the service life of the apparatus and reduces operating costs even further. At the same time the design reliably prevents any media intermixing, thus guaranteeing optimum process stability.
The GEABloc is generally designed as a high-performance PHE for temperatures of up to 350 °C and a pressure of 32 bars and can be supplied in six model sizes. Modifications for special applications are possible. The plate material can be stainless steel, nickel or titanium. The GEABloc is predominantly used in the oil and gas industry, in the petrochemical and chemical industry, in the automobile industry and pharmaceuticals, but also in papermaking, and also wherever demanding processes have to be run at high pressures and high temperatures.