GE Lighting signs partnership agreement with AW Rostamani Lumina
GE Lighting (NYSE: GE) has strengthened its commitment to building strong local partnerships by signing a partnership agreement with AW Rostamani Lumina, an integral part of the AW Rostamani Group of Companies, the scope will include all regional projects. All light sources by GE Lighting are included as part of the agreement except automotive lamps and signage solutions.

The partnership agreement underlines GE Lighting's strategy to expand its footprint by providing comprehensive solutions to customers by working with local partners with proven market competencies.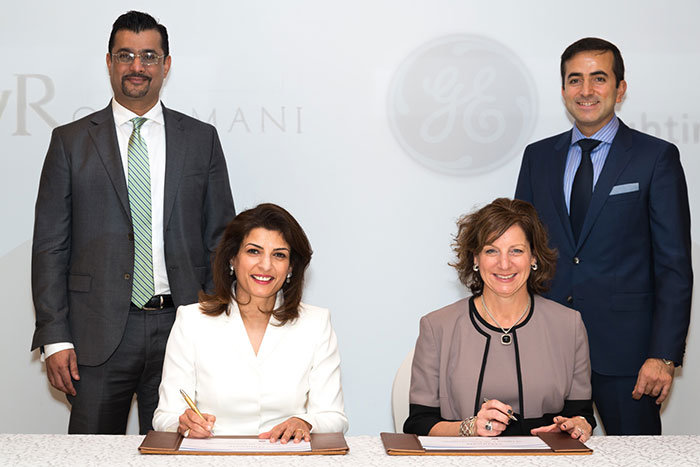 The agreement was signed between Maryrose Sylvester, President and CEO of Current, powered by GE and Huda Al Rostamani, Director AW Rostamani Group of Companies.

Erdem Soyal General Manager of GE Lighting MEAT, said: "The distribution agreement with AW Rostamani Lumina brings us closer to our customers and enables us to offer comprehensive solutions, supported by efficient sales and installation. The agreement will enable our project clients to benefit from the domain industry experience of AW Rostamani Lumina too, thus enhancing all-round operational efficiency. Underlining in our focus on investing in local partnerships in the UAE, the agreement will further contribute to achieving the sustainable development goals of the UAE and the region."

Umar Khan, General Manager of AW Rostamani Lumina, said: "GE Lighting brings an extensive range of solutions that complement our operations in the region. The company's strength in LED lighting, which contributes significantly to energy efficiency and environmental sustainability, are an ideal fit to our vision to be the sustainable lighting partner for the region. We have a strong track-record in supporting several landmark projects in the Middle East, Africa and the Pan Arab market. The partnership agreement with GE Lighting will further strengthen our business in the region."

With the region placing the highest emphasis on 'green buildings' and sustainable projects, demand for sustainable lighting are also making strong inroads. GE Lighting estimates to support regional projects with over US$6 million worth of lighting solutions by the end of this year.

As per the agreement, the innovative lighting solutions launched by GE Lighting will be distributed and installed by AW Rostamani Lumina, the industry leader in high quality luminaires and lighting control equipment for residential, commercial and industrial applications.

GE Lighting will also extend advanced training and workshops on its lighting solutions to strengthen the skills of its partner's team and in line with its commitment to knowledge sharing to support localization.

GE Lighting has a rich history in the Middle East having established long-standing business association with over 70 key partners over the past several decades. With a full-fledged team in the region, GE Lighting has several professionals driving the operations.