German Manz AG's CIGS Thin Film Solar Technology is Best Suited for Middle Eastern Deserts
Copper Indium Gallium Diselenide (CIGS) thin-film solar technology generates electrical power by converting solar radiation into direct current electricity. CIGS thin film modules are less sensitive to dust, making the technology ideal for the Middle East's desert climate. The modules are also more receptive to longer wavelengths at wider acceptance angles, according to Mohamed Alammawi, Vice-President of Sales, Middle East and North Africa, Manz AG.

Alammawi added, "When compared to thin film technology, crystalline silicon (cSi) needs many more production steps. The sustainable CIGS technology uses non-toxic materials, consumes very low energy in production, making energy pay back possible in shorter period as compared to nearly three years for cSi. Due to its characteristics and performance parameters, CIGS is the best available solution for building integration projects, which is set to become an integral part of solar power generation, particularly for large manufacturing units."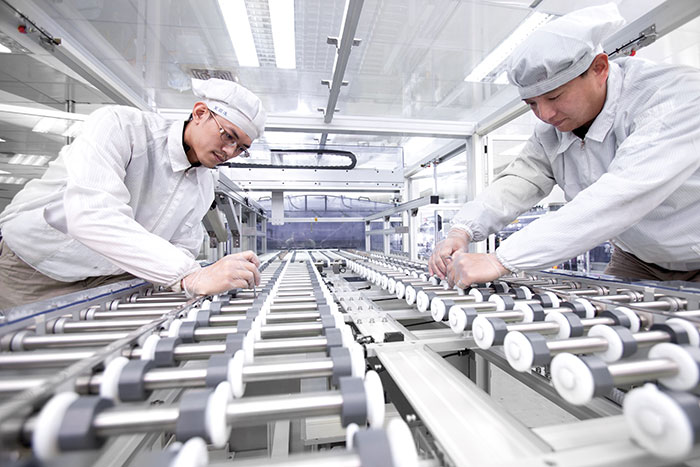 Alammawi's comments were made at the Intersolar Summit Middle East, Riyadh, 2014 during his presentation on photovoltaic solar production technology. At the event, Manz AG is also showcasing its CIGSfab, a fully integrated turnkey production line for producing CIGS thin-film solar modules. Manz AG broke the world record for module efficiency as high as 14.6% in September 2012. Manz AG's module is based on the CIGS technology developed by the renowned Center for Solar Energy and Hydrogen Research (ZSW), which achieved a world record cell with an efficiency of 21.7%, in September 2014. Manz has exclusive access to the technology from ZSW.

With Manz AG's advanced technology, the production of CIGS modules can be done in one plant. For crystalline solar to be competitive, an investment of at least EUR 1 billion is needed for the silicon (raw material) production alone. However, with the same investment, a CIGSfab unit could produce 10 million CIGS modules per year, using over 80% of local content. Furthermore a CIGSfab turnkey solution would need only a negligible construction time of approximately 12 months.

Manz AG is the only company offering fully integrated production lines for CIGS solar modules that can be economically operated. Its experienced specialist team accompanies partners from the initial order all the way through to successful mass production. Buyers also have the benefit of accessing Manz' latest technology that continuously seeks to further cut costs and enhance module efficiency.

Speaking at the event, Alammawi reaffirmed Manz AG's commitment to supporting governments in the MENA-region to achieve their ambitious growth targets for the expansion of solar energy driven by multiple reasons. The primary factor is the significant increase in demand for electricity, which cannot be covered by oil/gas and is set to become too expensive. Governments are increasingly looking to secure water and food supply through the production of renewable energy for sustainable water desalination. Renewables also offer the opportunity to create a new sustainable economic sector with local production, local job creation, and the growth of gross domestic product (GDP).

Categories:
48 14 13 - Solar Energy Collectors