Interior Designers get their own social work space in d3
The Association of Professional Interior Designers (APID) has announced the creation of a 'Design Hub' located within Dubai Design District. The Design Hub provides interiors professionals a space to connect and collaborate. APID will be able to expand its program of seminars and networking events with this 1600 sq feet premise. The APID campus will be a place for task forces and committee working groups of like-minded professionals to co-create solutions to common challenges in the interior design sector. With a resource library, WIFI-enabled open work space, and lounge area, the multi-functional Design Hub will become a meeting place, source of inspiration and a point of call for interior designers working across the region.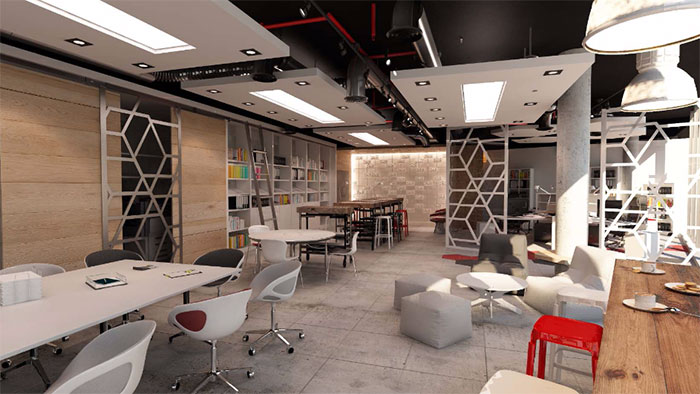 "In its 10th anniversary year, APID is offering this region's interior design community a creative home. The new space marks a milestone, putting the Association in the heart of the design action. It will give us a permanent base from which to showcase the best design can offer," noted APID President, Mrs Farida Kamber Al Awadhi.

"As a members' club, APID already acts as connector, facilitator and instigator of change for the interior design profession. The APID Design Hub will be an incubator for new talent and new ideas by bringing professionals and students together. Having this space will exponentially increase our impact," commented Linda Merieau, Executive Director.

The APID Hub has been designed through a volunteer effort of the Association's members contributing time and services on a pro bono basis. In the presence of over 100 design firm principals and leading influencers, today APID officially launched a Capital Campaign to secure the needed resources to fit-out, furnish and operate the future premises. The following organizations have given an early commitment to support this effort as APID Design Patrons: American Hardwood Export Council, Cinmar Design, Design Design, Hacker Kitchens, Guideline Interiors, Knauf AMF, MAS Paints, Poltrana Frau Group, Purity, Walls & Floors and 360 Decoro ensuring that the Association is successfully on its way to reach its goal. APID is in discussion with many other leading firms and is currently seeking additional in-kind and financial support to reach their target by September.

"APID's Design Hub will play a critical role in ensuring the professional development of the interiors industry in the region. We are pleased that d3 can provide a platform that enables the organisation to grow its programme of activities and continue enhancing its work on behalf of this important creative industry", explained Lindsay Miller, Managing Director, Dubai Design District.

Website:
http://www.apid.ae