KE for Grand Hotel Baglioni in Florence - Kolibrie shades the terrace of B-Roof restaurant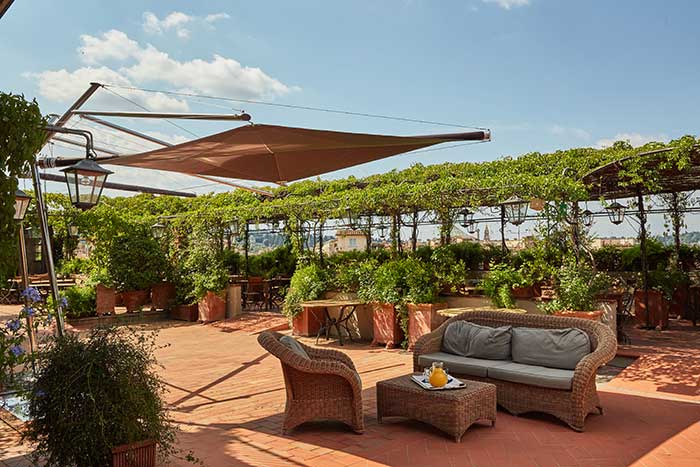 The Grand Hotel Baglioni is housed in a nineteenth-century building that belongs to the history of Florence. Opened officially on August 12th, 1903, it has hosted kings, heads of state and intellectuals, becoming a reference point in the Florentine cultural life.

Recently, the restaurant area has been renovated and B-Roof was born, a modern setting on the fifth floor of the historic hotel: it offers a unique, special view on Florence's skyline. On B-Roof's terrace, an outdoor restaurant area was created, for guests who want to enjoy the panorama sipping a cocktail or having dinner.

With the aim of obtaining both the right atmosphere and wide shady areas at the same time, the designer chose to insert two Kolibrie shading structures; they are equipped with a refined shade of bordeaux Dacron fabric. This sail is a true design object: its essential lines and sailing finishes immediately met the customer's taste.

The two shading structures have been placed on the central part of the terrace, adding a touch of style to the luxuriant roof garden, all built in the typical Florentine style.