About Knauf EASY-Finish Stucco Surface Finish
Brochures

Knauf EASY-Finish Stucco Surface Finish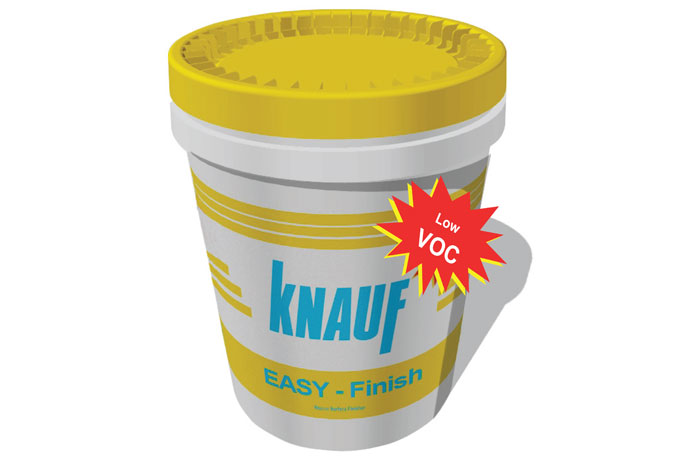 Knauf EASY - Finish is a pre mixed gypsum based, white finish compound designed for use as a skimming compound on most interior construction surfaces such as gypsum boards, sand/cement render & cement fibre boards. EASY - Finish is designed for internal use only and is intended to provide a perfectly smooth and level surface ready for the final decoration or wall finishing.
Properties
High Quality Filler and Primer Surfacer
Two in One - Primerless Gypsum Board Application
Low Paint Absorption
Excellent Surface Coverage
Easy Application and Smoothening
Manual, Roller and Spray Application
Shelf Life
Knauf EASY - Finish has a shelf life of approximately 6 months from the production date when stored correctly.

Application Fields
Gypsum Boards
Sand / Cement Render
Cement Fibre Boards
Pre Cast Concrete
Storage
Knauf EASY Finish should be stored in a dry and covered area, out of direct sunlight below 0ºC (32ºF) temperature. When stacked in pallet load, it should not be stacked more than 2 pallets high. Once the bucket is opened and only partially used it can be re-sealed for any future use.

Order Information
28 Kg (18 Lts.)
Material no: 528962
Application Method
Hand Applied / Spray Applied
1st Coat at approximate 1-2 mm thick
2nd Coat (if required) 1-2 mm thick. depending on the background surface condition
03 35 00 - Concrete Finishing
09 00 00 - Finishes
09 70 00 - Wall Finishes
09 93 00 - Staining and Transparent Finishing
09 94 00 - Decorative Finishing