Luxury Faucet Brand Brizo Partners With UAE Students to Create Fashion-Fueled Designs
In coordination with its ten-year anniversary, luxury faucet brand Brizo recently celebrated its formal UAE launch and a decade of global success by hosting a " Future of Bathroom Design" workshop at The American University in Dubai (AUD). Showcasing the unique convergence of form, fashion and luxury innovation that Brizo and its parent company, Delta Faucet Company are known for, the workshop saw 20 of AUD's best and brightest interior design students come together for an inspirational and hands-on design workshop led by Brizo's Director of Industrial Design, Judd Lord, and Celine Garland, Brizo's Lead Industrial Designer.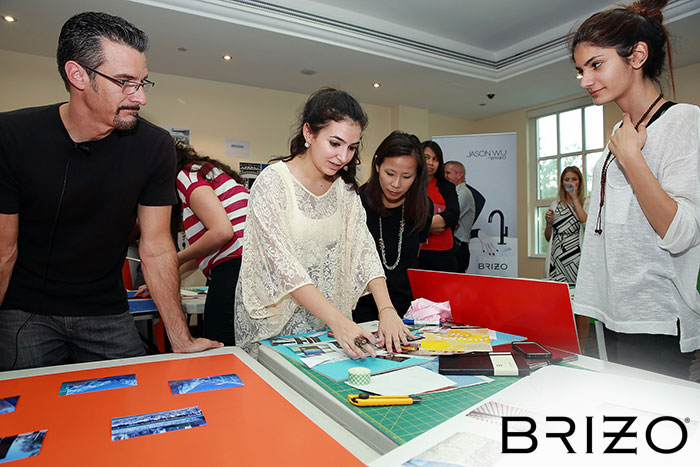 Widely recognized for bringing life to indoor spaces by drawing on inspiration from the outside world, Lord and Garland have over 29 years' collective experience which includes a close collaboration with celebrated international fashion designer, Jason Wu. The workshop was held as part of their first visit to Dubai – a trip that saw them to absorb design inspiration from the emirate's landscape, cityscape and its people.

"Throughout my 21 years of experience, the only consistency in my design inspiration is that the sources are always changing, which is why Dubai is truly a unique and exciting setting for me as a designer," commented Mr. Lord. "Not only is it the awe-inspiring cityscape, but it's also the energy, creativity and vibrancy of the people Celine and I have met here, including the students here at AUD. For us, the workshop was as much gathering inspiration as it was sharing it and we're eager to get back to the studio and translate what we've witnessed here into innovative designs."

Among the highlights of the workshop was a discovery tour around Dubai's fashionable downtown precinct, home to marvels such as the Burj Khalifa, Dubai Fountain and the "Swiss Cheese Building". With cameras in hand and functional fashion in mind, students took to the streets to get inspiration from the sights and sounds of modern Dubai. Students then returned to AUD to create personalized mood boards detailing real-world fashion and Dubai design inspirations which were then judged by Judd and Garland in a friendly competition.

"As a student of interior design it was amazing to hear about the process that global designers such as Judd and Celine undertake in developing functional yet fashionable faucets. It was also great to rediscover Dubai and show off the city's flair for design through our work," commented Salwa Hasan Najafi, second year interior design student at AUD.

"It's been such a great day of partnerships and ideas," said Ross Jackson, General Manager, Delta Faucet Company. "We've seen so many diverse elements come together throughout the workshop, highlighting the exact foundation upon which the Brizo brand is built. These students represent the region's next generation of talented designers and it was great to see such an exchange of ideas between Judd, Celine and the students."

"The School of Architecture, Arts & Design represented by the Interior Design Department is proud and committed to strengthening its partnership with Delta Faucet Company. Developing student competitions, seminars and joint workshops is a great way to nurture this valuable relationship while simultaneously adding value to our students' learning experience," said Albert Fakhoury, Chair and Associate Professor of Interior Design at The American University in Dubai. "The innovative concept, striking presentations, collaborative tour and interactive workshop led by top design talent was the recipe for a truly successful day, one that I'm sure our students will take with them throughout their academic career."

Renowned for crafting high-end collections for the kitchen, bath and shower, Brizo was the first faucet brand to incorporate a strong fashion focus into its designs through its partnership with fashion designer Jason Wu. As the rising star's primary sponsor, Brizo and Wu joined forces to create a luxury collection as beautiful as it is functional. In addition to its aesthetically pleasing, fashion-forward designs, Brizo utilizes leading-edge water-saving technology to produce stylish collections that are both environmentally responsible and energy-efficient. Proof that style need not be sacrificed for sustainability, Brizo offers maximized water efficiency without a compromised water experience.

Categories:
22 40 00 - Plumbing Fixtures