MEFMA to expand health and safety training in partnership with International Workplace
At the recently concluded annual FM Expo, the Middle East Facility Management Association (MEFMA) has announced a new partnership with learning and development specialist International Workplace that will see MEFMA expand its range of courses in the GCC region and beyond.

The new MEFMA course programme will provide a wide range of courses in health, safety and environmental management, leading to internationally recognised qualifications accredited by IOSH, NEBOSH and the Institute of Environmental Management and Assessment (IEMA). Courses will be available via eLearning and classroom study modes.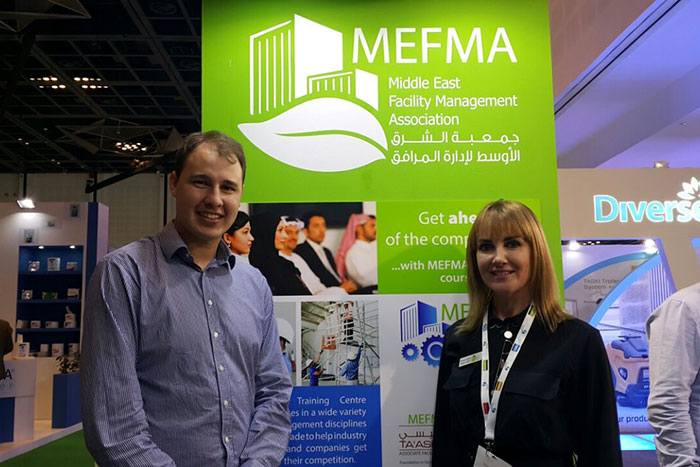 The MEFMA Health, Safety and Environment (HSE) course programme also provides a suite of short courses via eLearning that provide an ideal induction for FM services providers and public sector clients looking to train large numbers of staff in essential skills such as health and safety and sustainability. MEFMA eLearning courses are available direct to employers, delivered via a cloud-based learning management system that provides real-time reporting for an unlimited number of students.

MEFMA's new HSE course programme will be delivered in partnership with training and consultancy provider International Workplace, led by its Dubai-based Chairman Lionel Prodgers. A former Chairman of the British Institute of Facilities Management (BIFM) and the European Facility Management Network (EuroFM), fellow of IFMA, and an active supporter of MEFMA, Prodgers provides valuable insight into compliance in international markets.

Sinead Smith, MEFMA Director, commented: "We're delighted to be working with International Workplace to expand our training course programme into areas such as health and safety and environmental management, which we know are important to MEFMA members. We can now provide a one-stop shop for IOSH, NEBOSH and IEMA accredited courses, in addition to the IPAF and PASMA courses that are proving so popular."

Lionel Prodgers, Chairman of International Workplace, added: " We're looking forward to working with MEFMA on this important initiative. We know that eLearning is becoming increasingly important to employers in the region as a component of a blended learning format, and our suite of award-winning health, safety and environmental courses provides a flexible, low-cost alternative to classroom training."

The MEFMA HSE course programme is scheduled for launch in the GCC region in May. The full course curriculum, choice of study modes and price list will be published by MEFMA shortly.

Website:
http://www.mefma.org