New perspectives on sustainable cities to be highlighted at Emirates Green Building Council congress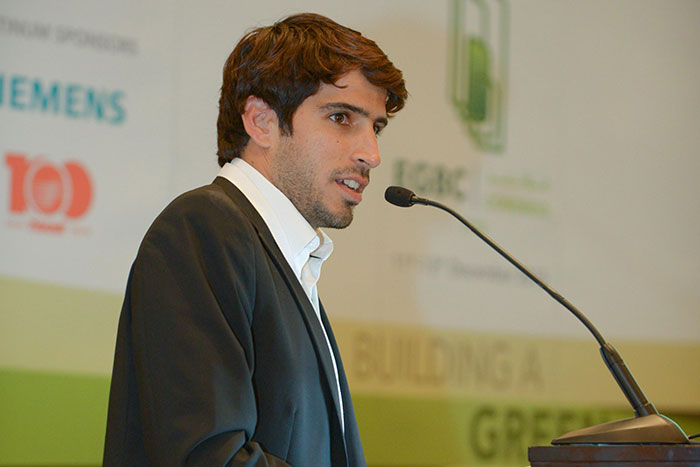 A wide range of regional and global perspectives on sustainable cities will be in the spotlight at the third annual Emirates Green Building Council (EmiratesGBC) Congress to be held on October 20 and 21, 2014, in Dubai, under the patronage of His Excellency Dr. Abdullah Belhaif Al Nuaimi, UAE Minister of Public Works. The Congress will officially be a carbon neutral event, underlining the commitment of EmiratesGBC to set benchmarks and serve as a model in promoting sustainable development.

Organised under the theme, 'Sustainable Cities for the Future,' the Congress is billed as the largest of its kind networking event on sustainability challenges in the built environment in the region. It will host a number of UAE-based, regional and international experts, who will share their outlook on the opportunities and challenges in driving sustainable development.

EmiratesGBC, an independent forum aimed at conserving the environment by strengthening and promoting green building practices, has unveiled the speaker panel and sponsors of the Congress, which will also include a day devoted to the tour of key sustainable projects in different business sectors.

Saeed Al Abbar, Chairman of EmiratesGBC, said: "The third Annual EGBC Congress will be the largest to date with a particular focus on fostering results-oriented discussions in further promoting the region's sustainable built environments. The esteemed panel of local and international speakers will discuss various aspects of sustainable development through interactive forums that will help foster positive action.

"The Congress outline and green building tours have been planned this year with to effectively address various aspects of the industry in order to reduce the environmental footprint of buildings and strengthen sustainability. We are thankful to the speakers and our sponsors for their support to the Congress. Their participation and encouragement will help us to reach a wider audience and in strengthening awareness on green buildings."

The Guest of Honour of the Congress is HE Dr. Abdullah Belhaif Al Nuaimi, Minister of the UAE Ministry of Public Works, who will deliver the inaugural welcome address.

Dr. Salaheddine Issa, Estidama Expert at the UAE Ministry of Public Works, will present a special keynote address on the ministry's sustainability initiatives. Other keynote addresses will be delivered by Eng. Madiha Salem of Trakhees on Green Building Regulations; Adeel Aleem Khan of Abu Dhabi Urban Planning Council and Dr. Saif Al-Ghais of Ras Al Khaimah EPDA.

A discussion on 'Sustainability at the Global Front: Local, Regional and International Perspectives' will feature a keynote on 'UNEP: Global Action Towards Resource Efficiency and Climate Mitigation in the Building Sector' by Arab Hoballah, Chief, Sustainable Consumption and Production Banch; and on 'C40 Cities Climate Leadership Group – Cities Taking Action' by Sanjay Sridhar, Regional Director for West and South Asia, Sustainable Communities Initiative, C40.

A panel discussion on 'Local Advances in Sustainable Cities: Technologies and Policies' will be addressed by representatives of Dubai Municipality and Masdar City, while a discussion on 'Existing Policies and Regulations in the Region: Issues, Challenges and Need to Develop New Policies,' will be addressed by Faisal Ali Rashid of Dubai Supreme Council of Energy; Abdel Aleem Khan of Abu Dhabi Urban Planning Council; Jagannathan Paravasthu of Trakhees and Bassam Saaloukeh of Emirates Authority for Standardisation and Metrology. Another panel session on 'Meeting the Challenges of a Sustainable Urban Future' will also be held.

Osama Younan, Chief of the Green Building and Mechanical Engineering Section of the City of Los Angeles will present a case study on advancements in sustainable cities. Select Winners of the 2nd Annual EGBC Awards will also present case studies on their local experience contributing to best sustainability practices in the UAE. They include: Gundeep Singh of The Change Initiative (EGBC award winner for the Green Building of the Year' and a representative of Emaar Community Management (winners of the EGBC Green FM Company of the Year).

The building tours on the second day include a visit to a sustainable hotel in the city followed by a workshop on 'Sustainable Hotel of the Future,' and a tour of DAFZA with a workshop focusing on the commercial sector.

A carbon assessment, covering all aspects of the Congress in terms of its carbon footprint, has been completed by Farnek Consulting. MyClimate Foundation, one of the world's leading providers of voluntary carbon offsetting measures, will offset the carbon generated through its international project portfolio of gold standard certified projects.

The carbon assessment of the event takes into consideration energy and water consumption, food, flights and hotels stay of delegates, commuting and transportation related to the Congress, paper and print materials used and the stands for exhibitors.

The sponsors of the Congress are Siemens (Platinum Sponsor), BASF – the Chemical Company (Gold) and National Paints (Silver).

EmiratesGBC offers various sponsorship opportunities for organisations to support the Congress. These packages assure an array of benefits including branding on-site and on the website of EmiratesGBC, speaking opportunities at the event, and exhibition space to promote their products and services. For more information, contact info@emiratesgbc.org or events@emiratesgbc.org, or call +9714 3468244.

EmiratesGBC regularly hosts and participates in multinational events, conferences and forums. EmiratesGBC has also developed a suite of activities, inclusive of networking events, technical workshops, focus days and facilitated training based around specific issues related to the built-environment that meet the needs of its members, of the UAE community, and the wider Middle East.