Poetic woven architecture features sustainable American red oak at the Venice Biennale
Weaving architecture', an installation by the architecture studio Miralles Benedetta Tagliabue - EMBT - was unveiled at the Biennale Architettura 2018 on May 25, 2018. The installation, which will remain on display until November 26, 2018, encapsulates their philosophy of work and their innovative experiments on architecture as fabric, using American red oak and fibre glass thread. A participative space as a manifestation of freedom is the idea behind the installation. As such, Miralles Tagliabue EMBT's project conveys how manual techniques, such as weaving, have the ability to humanize public spaces.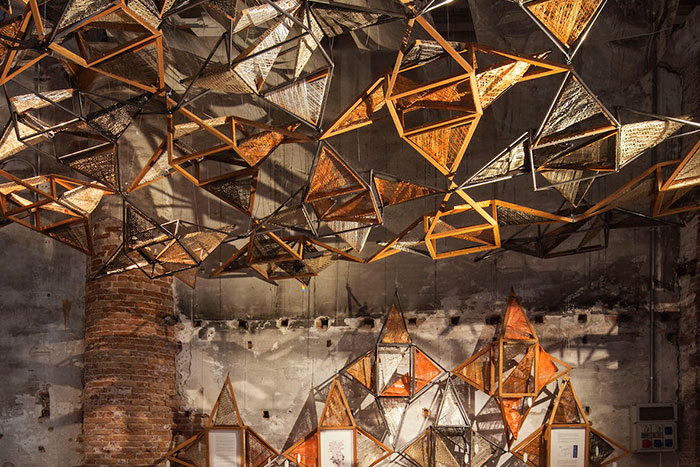 The poetic structure presented in Venice is composed by various elements intertwined in two levels. The higher level is built with American red oak modules and the lower one with steel modules; and both are woven with fibre glass of different colors, which softens the visual effect and blurs the boundaries created by the structure. 'Weaving Architecture' summarizes a way of thinking stemming from Benedetta Tagliabue and EMBT's experimental work through the years, starting with the wicker Spanish Pavilion of Expo 2010 Shanghai.

Progressing now in Clichy-sous-Bois and Montfermeil (in the outskirts of Paris) with the design of a metro station (as part of the Grand Paris Express), a marketplace, an urban renewal,
which will be built with fibers, a delicate material resistant through time and climate. 'Weaving Architecture', here in La Biennale, deals with the concept of weaving at different scales: weaving the city through its metro, weaving activities of people in the public space, weaving the structure of the canopy to dress it with fiber fabrics.

The canopy provides protection and shade, creating a comfortable, semi-open space for various communal activities. Its colorful nature expresses the spirit of Clichy-sous-Bois and
Montfermeil by recalling patterns of African traditional clothing as well as local graffiti - an artwork owned by the people. This architecture, like the infrastructure it represents, links territories and builds a sense of social inclusion by manifesting architecture's social role.

Currently the Grand Paris Express is Europe's largest infrastructure and development project: 200km of automatic metro lines and 68 new stations to build, which integrates metro networks, trains and airports. With a scale of this venture, the project is not only a technical and architectural opportunity but also an economic, social and cultural challenge that will make these stations and their neighborhoods better places to live. The Implementation of the Grand Paris Express will strengthen the attractiveness of the region to promote equality within the territories of the metropolis. For millions of users, it will create changes not only in their transport but their territory.

The red oak components of 'Weaving Architecture' have been fabricated in Madrid by the craftsmen at Intrama, a workshop with more than 30 years of experience in the field of architectural carpentry. According to Antonio Arce, Director of Intrama, the workshop has been working with red oak since the 80s; for some major projects such as the joinery of the Spanish Parliament. It is a species Intrama likes to work with because it is very noble, has a great look and is easy to work with. For this project, Benedetta has decided to use a very natural oil to finish the timber in order to highlight the wonderful grain of the red oak.

According to the American Hardwood Export Council (AHEC), red oak not only has a minimal carbon footprint but is also truly sustainable. The American hardwood forest, which occupies about 120 million hectares of the United States, has been well managed by successive generations of small landowners. Trees are selectively harvested and replaced through natural regeneration. The timber grows at a much higher pace than it is extracted, and the forest increases by 401 hectares each year – the equivalent of a soccer pitch every minute.

Two years ago, Benedetta embarked on a journey with AHEC to demonstrate the potential of underused species, which despite growing abundantly in the forests are being underused
because they are not in fashion. This journey started with The Workshop of Dreams, where she teamed up with Pritzker Prize Director Martha Thorne to create a series of coffee tables made in sustainable U.S. hardwoods. It continued with Too Good to Waste, an installation presented at Milan Design Week 2017, which opened up a dialogue about the need to use all the different species that the forests produce in order to achieve real sustainability.

When thinking about the material for Weaving architecture, American red oak was the obvious choice for EMBT. Thanks to those two projects, they had previous experience with this beautiful timber and were aware of its outstanding environmental properties. Despite being a favorite in other parts of the world like the U.S and Asia, red oak is not being used extensively in other markets. Nearly one out of every five hardwood trees standing in the U.S. forests is a red oak, yet industries are somewhat reluctant to use it. The hope is that this project will inspire a more imaginative use of this beautiful and sustainable species.