Select Group Awards AED 1 Billion Contract for Marina Gate Development
Select Group, one of Dubai's largest private real estate developers, has awarded an AED 1 billion contract for the first two phases of its flagship Marina Gate development in Dubai Marina. The contract has been awarded to ALEC, one of the leading contractors in the UAE who have won a number of awards for their projects.

Marina Gate I was launched in April 2014 and was sold out within weeks of the launch. In light of the success of Marina Gate I, Select Group launched Marina Gate II in October, which was also exceptionally well-received by investors. The two projects comprise 881 residential apartments, 19 Penthouses and 18 duplex Marina Villas in addition to 100,000 square feet of retail space.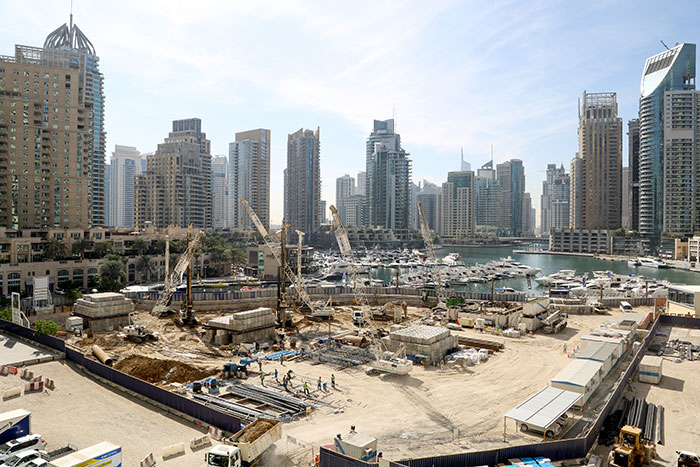 Since its inception in the UAE in 1999, ALEC has consistently evolved and grown to become a preferred contractor for the execution of major construction projects across the GCC. The company has delivered developments that have become significant landmarks in the UAE, including airport terminals, themed projects, hotels, retail developments, commercial buildings and residential towers.

Under the terms of the contract, ALEC will provide a clearly defined scope of construction management services to Select Group for what is expected to be a quality development project. The Residences at Marina Gate are valued at over AED 4 billion and have a built up area in excess of 3.8 million square feet. The project is scheduled for completion by 2018.

"Awarding a contract of this quantum early on is not only a reflection of our confidence in Dubai's real estate market, but is a culmination of our detailed financial and technical planning work over the last two years, which has been reinforced by the strong investor appetite for this project," said Rahail Aslam, CEO of Select Group.

"Our decision to choose ALEC as our preferred partner compliments our own philosophy of managing and executing projects to ensure delivery in a timely manner without any compromise on quality," he added.

"This contract award underpins our strong commitment as a contractor in the region, to continually deliver projects on time and to the highest standards. We look forward to working on this landmark project and to developing a successful, collaborative and ongoing relationship with Select Group," said Kez Taylor, CEO of ALEC.

Select Group is one of the largest private developers in the UAE that has developed a reputation for quality, reliability and consistency since inception in 2002. The Group has delivered eight projects with an additional four underway in the Dubai Marina master development and possesses an impeccable track record of timely delivery. Select Group has recently completed an award winning development in the United Kingdom and holds a strong reputation in the UAE for successful projects including 'The Torch', 'Botanica', 'Bay Central' and 'West Avenue'.