The Big 5 International Building and Construction Show
To enable French companies to seize new opportunities or reinforce their existing presence, Business France, the national agency supporting the international development of the French economy, will once again be running two French pavilions at the BIG 5, the Middle East's leading construction industry show. Twenty-four companies from the industry's various sectors will be presenting their products, services and expertise to local businesses.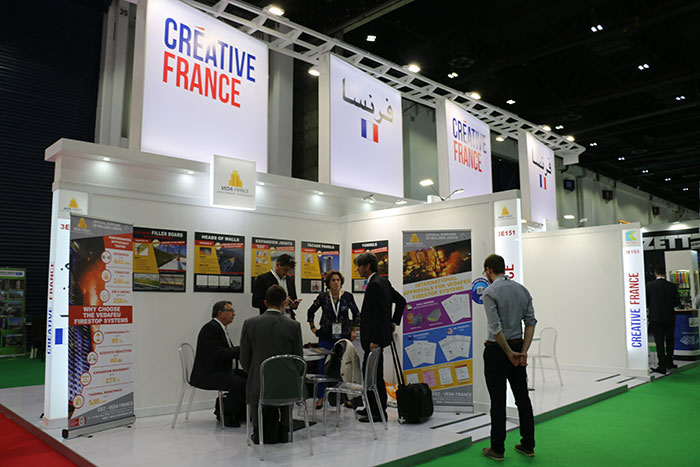 The French construction, finishing work industry has several undeniable strengths in line with the Expo 2020 Dubai, likely to require transport and tertiary infrastructure, and will therefore create a whole host of opportunities that French companies must leverage by establishing ties with local decision makers.

With a highly fragmented network of 392,000 companies and sales of €135 billion in 2017, the industry has one or more global leaders from France in most of its component sectors: VINCI, EIFFAGE, BOUYGUES and SPIE, to name just a few. France boasts a highly diverse offering when it comes to the building trades, with companies of all sizes providing structural engineering services and finishing work (carpentry, roofing, insulation, sanitation, air-conditioning, smoke detectors, etc.) and interior fittings (wall and floor coverings, luxury tapware, home automation, etc.).

Marc Cagnard, Managing Director Business France Middle East commented: "Innovation features strongly in French companies, from new and biosourced building materials, wooden construction driven by ecological considerations, and smart building in BIM – Building Information Modeling – to home automation, smart meters, energy optimization tools, solar glass, and smart thermostats, boilers and bulbs, these are just some of the development initiatives currently being pursued by businesses in the sector".

Lastly, France enjoys a strong reputation for quality and reliability, which are especially important in the construction industry due to safety risks. France tends to maintain a strong presence internationally with €22 billion generated in foreign markets, to export top-quality carefully designed, advanced technology products (innovative insulation materials, building facades that let in natural light, suspended ceilings, clay roof tiles, natural paints, decorative fireplaces, etc.).

To meet French exhibitors at the Big 5 Show, come along at Dubai World Trade Centre:

Between HALL 1 and 4: MEP & Building Interiors,


HALL ZA'ABEEL 1-3: Construction Tools & Building Materials
Stand to watch:
GV2 VEDA France will be presenting its VEDAFEU range, dedicated to passive fire protection, which has been validated by the UAE Civil Defense.
Rapid fire spread in buildings is something that, even today, continues to be a problem, with consequences that are often disastrous leading in some cases to heavy loss of life. There is no lack of recent examples:- The Zen Tower in Dubai in May 2018, Grenfell Tower in London in June 2017, Torch Tower in Dubai in 2017 and 2016, The Address Downtown also in Dubai in December 2016... The only way to protect people and property in the face of this type of events is to systematically install appropriate, certified and patented fire barrier solutions during construction.
Among the products for which GV2 VEDA FRANCE is famous, the VEDAFEU range, designed to offer passive fire protection, consists of ropes, mattresses, blankets, fillerboards and firestop foam. This patented range is validated by local authorities (UAE Civil Defense, Qatar Civil Defense, Kuwait Fire Department...) and has obtained international certifications (EN, UL, BS) issued by world-renowned independent official laboratories (Efectis, CSTB, TÜV Singapore, Exova...).
VEDAFEU products are fire-rated up to 4 hours and can be used for joint gaps up to 840 mm. In order to meet the most challenging technical requirements, these firestop solutions are validated in multiple configurations: - with and without movement; for horizontal and vertical applications, for head-of-wall configurations, for facade panels…