About Durosan 02
Durosan 02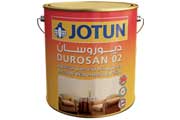 For a paint that will never let you down, this lead-free, waterborne emulsion delivers good colour retention, a smooth appearance, and superior durability time and time again.
Recommended Application
For repainting walls: Directly apply 2-3 coats of Durosan 02.
For new walls: Use 1 coat of PVA Primer, 2 coats of Stucco, followed by 2-3 coats of Durosan 02.

09 90 00 - Painting and Coating