Exhibitions and Conferences
On this page we present a selection of exhibitions and conferences relevant to the real estate, building and construction industry.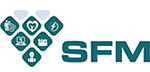 Smart Facilities Management Conference 2021 (SFM 2021)
It will provide an ideal platform for the Smart Facilities Management industry featuring the latest technologies, chemistries and services available for these unprecedented times and discussing the latest trends, challenges and cutting-edge solutions. SFM 2021 will set the stage for the industry to unite and move forward together.
Venue: Sofitel The Palm
City: Dubai
Country: United Arab Emirates
Dates: 18 and 19 August 2021
More information!


BIM Middle East 2021 Conference & Expo
The event is now the region's leading and biggest event on Building Information Modelling (BIM). It attracts international representatives from all stakeholders in construction including government; municipalities; contractors; infrastructure operators; civil engineering; developers; architecture; consultants; technology providers; and industry associations.
Venue: Dubai World Trade Centre
City: Dubai
Country: United Arab Emirates
Dates: 06 and 07 September 2021
More information!


Roads and Rail 2021 Design & Development Conference & Expo
Roads and rail development projects continue to be among the biggest infrastructure projects in the region attracting significant investment. Smart and cost-effective methods for design, development and management of roads, highways, railways, and bridges is now top of the agenda.
Venue: Crowne Plaza Dubai
City: Dubai
Country: United Arab Emirates
Dates: 06 and 07 December 2021
More information!


The Big 5 Saudi 2022
Is the meeting place in Saudi Arabia for the construction industry. Covering the most important sectors of construction, the event is essential to the industry, providing them a place to source everything in the buying cycle – from conception through to completion.
Venue: Riyadh International Convention & Exhibition Center
City: Riyadh
Country: Saudi Arabia
Dates: 28 to 31 March 2022
More information!