About Fenomastic Primer
Fenomastic Primer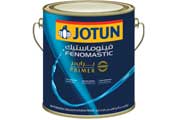 Offering easy application, superior adhesion and good penetration, Fenomastic Primer is the perfect choice for wall preparation. This high performance primer is also waterborne, which mean less VOC (Volatile Organic Compounds) emissions, and less harm to the environment.
Recommended Application
For new walls use: Use 1 coat of Fenomastic Primer, 2 coats of Stucco, followed by 2-3 coats of Fenomastic.

09 90 00 - Painting and Coating