About Woodshield Interior Varnish
Woodshield Interior Varnish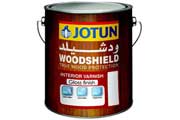 Specially formulated for indoor use, Woodshield Interior creates a smooth yet tough film that makes the everyday use and cleaning of wood surfaces a breeze.
Recommended Application
For new application: Sand the surface of the wood thoroughly. Once done, clean the surface with a cloth to remove dust. Finally, apply 1 coat of Woodshield.

09 90 00 - Painting and Coating