About Knauf Readygips Joint Filler and Finishing Compound
Knauf Readygips Joint Filler and Finishing Compound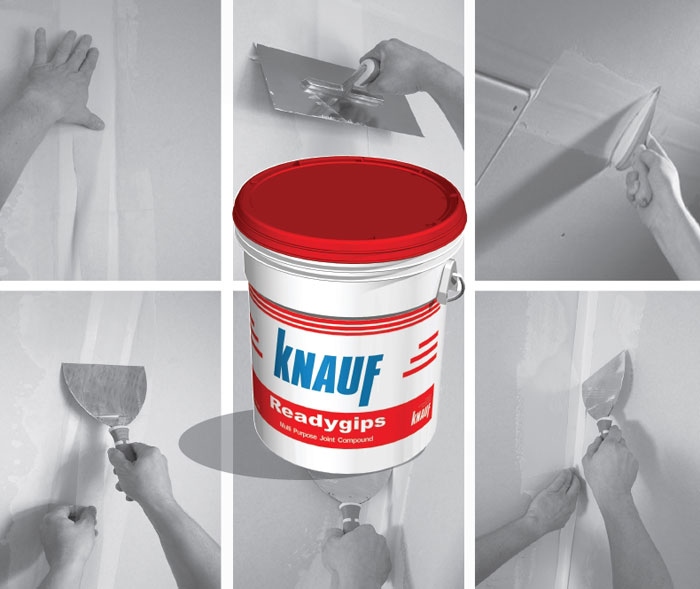 Readygips is a high performance pre-mixed compound that is used for embedded joint tapes, beads and finishing of Gypsum panel joints. This compound offers superior working quality and has a good crack resistance due to its excellent bond. Readygips gives the smoothest of finishes with minimum efforts, its formulation ensures a professional /quality drywall finish every time.



Complies with: ASTM C475 and ASTM D3273

Properties

Ready to use
No mixing or setting times
Pliable consistence
Easy filling
Easy Workability
Fast drying
Easy to sand with Knauf Hand Rasp with Handle
Material
Fabric - Knauf Readygips consists of synthetic dispersion as binder and an exactly set-up combination of particle- sized mineral calcium sulfate fillers and suspending agent.

Storage
Protect against direct solar radiation and temperatures below 0°C (32°F) Store in cool, dry ventilated areas & away from sources of heat and moisture.

Shelf Life
6 Months if stored at standard temperature of >+5°C

Order Information

28 kf Bucket
28 kg Bucket
48 Buckets Per Pallet
Material Code: 421382
Fields of Application
Indoor for wallpaper and coatable skimming of wall and ceiling plasters (gypsum, lime, lime-cement plasters), of concrete surfaces and aerated concrete.
Joint filling of gypsum boards with SE and TE edges together with joint tape by hand.
As finish on gypsum board joints, already filled with Knauf Uniflott or Knauf Fugenfuller flush with board surface, to create surfaces with surface quality level "Q3".
For skimming of entire gypsum board surface as background for the creating of surface quality level "Q4".
Knauf Readygips is not appropriate to fill joints of perforated boards.
Filling in the joints of gypsum boards along with a Joint tape up to Q2 surface quality.
Finishing and skim coating entire gypsum board surfaces before applying paint on walls and ceilings up to Q4 surface quality.
Renovation works, as well as general repairing works.

07 91 00 - Preformed Joint Seals