About Digital Paralleling Equipment
Digital Paralleling Equipment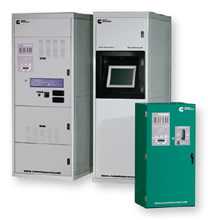 PowerCommand® digital paralleling systems from Cummins Power Generation offer more benefits not available on any other brand of paralleling system.
Systems Without Equal: From true digital control of startup, synchronization, and no-break power transitions — to sophisticated diagnostics, remote monitoring and networkability — PowerCommand Digital Paralleling Systems are without equal. In 10 seconds or less, PowerCommand Digital Paralleling Systems can parallel and synchronize all your diesel and multiple gas-engine generator sets with each other and the utility. This true distributed logic concept features paralleling controls mounted on the generator sets, low or medium voltage power sections and the digital master control for supervisory functions.
Controls are designed and manufactured around standardized control blocks for increased reliability. As a result, PowerCommand systems deliver better performance with increased functionality. And, because they use fewer components, they take up to 40 percent less space than traditional systems.
PowerCommand® systems are installed in thousands of applications worldwide – including electric generation and distribution systems, industrial plants, commercial buildings, hospitals, wastewater treatment plants, transportation systems and pipeline stations.

01 51 00 - Temporary Utilities
01 51 13 - Temporary Electricity
01 51 16 - Temporary Fire Protection
01 51 19 - Temporary Fuel Oil
01 51 23 - Temporary Heating, Cooling, and Ventilating
01 51 26 - Temporary Lighting
01 51 29 - Temporary Natural-Gas
01 51 33 - Temporary Telecommunications
01 51 36 - Temporary Water
01 51 00 - Temporary Utilities