About Fuel Systems
Fuel Systems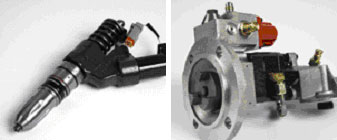 The Cummins Fuel Systems Business provides a strategic advantage to its engine business customers by providing market leading technology in the design, manufacturing, and support of its product line.
Cummins Fuel Systems provides world class technology to enable engine customers to meet increasing emissions requirements while maximizing fuel economy and performance. In both new product production and remanufacturing, the business is a critical partner to Cummins engine applications and other key external partners.
Cummins Inc. leverages over eighty years of Fuel Systems experience in its current operations. Located in Columbus Indiana, El Paso Texas, and Juarez Mexico, the Fuel Systems Business produces and remanufactures both unit injector and common rail systems, as well as electronic control modules. The business is expanding manufacturing capabilities in other areas of the world to ensure future growth and support in emerging global markets.
The Fuel Systems new product line supports engine applications ranging from 8 to 78 liters. The remanufacturing business supplies fully reconditioned products for engine remanufacturing and field service needs.
Product Line:

CELECT
High Pressure Injection (HPI) Systems
Cummins Common Rail (CCR) Pump
Extreme Pressure Injection (XPI) System
Fuel Systems Business Remanufactured Products