Middle East Construction Chemicals & Materials 2007 conference in Abu Dhabi 16-17 April.
Set against the rapid growth and the many internationally coveted construction projects that are underway to develop the region, INC Global LLP will be holding its "Middle East Construction Chemicals & Materials 2007" conference in Abu Dhabi, United Arab Emirates on 16 – 17 April.
Current infrastructure projects are estimated to be at an annual growth of 11.6% and valued at US$1 trillion. These projects include the - Al Raha Beach development - US$15 billion, Al Reem Island developments - US$9.5 billion, Saadiyat project - US$2.7 billion, and the Abu Dhabi Airport expansion - US$6.8 billion. The Emirates alone is expected to further spend an additional US$12.8 billion over the next two years.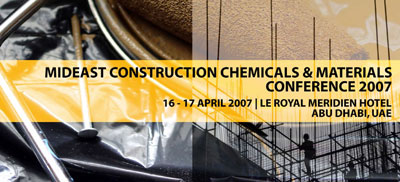 At least 60 business leaders and speakers will be expected at this conference where policy issues, regulations, trends and market dynamics will be presented and discussed.
An impressive line up of practitioners and trend watchers have been invited to speak: Mr Sanjeet Sandhu, Technical Director of DSCO Group; Mr Raman Madhok, CEO of Al Ghurair Iron & Steel; Mr Ranbir Khanna, Regional Business Systems Manager of BASF Construction Chemicals and Mr Ferdinand Leopolder, Secretary, Middle East Drymix Mortar Association are among them.
Great networking opportunity presents itself at this conference where regulators, manufacturers and operators, producers, academics and researchers, as well as government representatives from Middle East and the rest of the world will congregate.
For more information about the event, click the link below.