The manufacturing of trains (Rolling Stock) for Dubai Metro begins.
The Rail Agency at the Roads and Transport Authority in Dubai has announced that the manufacturing of rolling stock (trains) for the Dubai Metro has commenced. With five cars, 3 motor cars and 2 trailer cars, each train will be approximately 85 metres long, 2.78 metres wide and 3.86 metres high.
Adnan Hammadi, Director of Construction, Rail Agency, said: "The completion of the first train manufacturing will be ready by October 2007 after which the train will be delivered to Dubai for testing and commissioning starting in March 2008. The process of manufacturing one train set takes approximately 12 months and the sub systems fitted into each train are from various international reputed suppliers like Kinki Sharyo, Mitsubishi Electric, and Alcatel to name a few. Altogether 44 sets will be delivered for the Red Line on time to commence revenue service in September 2009.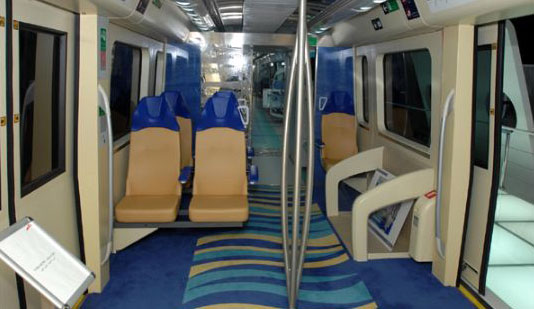 Hammadi added that the fabrication of the car-body parts and outfitting of equipment would be assembled in Japan at Kinki Sharyo's manufacturing facility in Osaka. The trains have very distinctive colours. The exterior is blue and silver.
He confirmed that the trains to be delivered to Dubai would have five Cars that can accommodate 643 passengers. The trains will be assembled with one Gold Car located at the front followed by four Silver Cars. The color schemes have been developed by an international specialized company in association with Kinky Sharyo industrial designers. Passengers in the Gold Class Car will experience a luxurious interior with full leather wider seats and a panoramic view through the front window of the train with just 18 seats. One part on the Gold Car on the Dubai Metro is reserved to be used exclusively by women and children.
As for the Silver Train, it will be the largest compartment on the trains and be comprised of four cars. Seating is arranged in a variety of ways giving passengers the choice between admiring views from the windows or discussions with friends. Numerous hand holds provide a secure grip for standing passengers.