Making roof-work safe is required to reduce the number of fatalities in the constrution industry.
Facilities Managers, building owners and contractors need to be fully aware of their responsibilities to ensure a safer working environment for maintenance on roof areas.
There is no escaping the need for high-level maintenance work - indeed, it is a growing requirement in many instances. No matter how technically advanced or well installed, any roofing system needs periodic inspection and maintenance and manufacturers' warranties generally demand this. Even with today's sustainable 'green' roofs - which it is tempting to think can look after themselves - expert guidance suggests that maintenance is needed every 6 months, and that is after an initial establishment period when even more work is needed.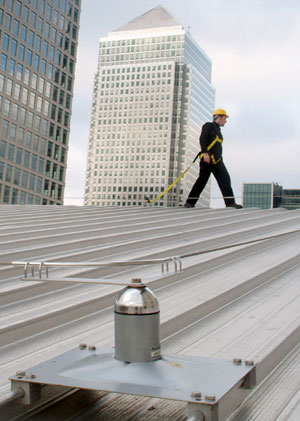 The highest priority is to consider 'collective' measures such as guardrails but, in practice, this approach is generally limited to flat roofed areas and there may also be architectural, technical, cost and a host of other reasons why guardrails are not suitable. In these situations, Personal Protection Equipment (PPE) harness systems, such as Cable Restraint or Fall Arrest Systems, offer the most practical solution. PPE systems offer a cost effective means of infrequent access and can be used on many curved or pitched roofs.
They consist of a network of installed cables secured by posts, forming a permanent element of the building. For maintenance work, an appropriate PPE body harness can be attached via a prescribed length lanyard to the cable at the access point onto the roof. This enables movement around the roof area as needed without disengaging the lanyard. A prescribed level of training, procedures for rescue and detailed signage are all essential for safe operation, and facilities managers need to fully understand the system installed.
The introduction of 'constant force' technology systems has revolutionised cable-based fall protection systems. Here, constant force posts with base plates are top-fixed to the roof, protecting its integrity, preventing 'thermal bridging' and removing the need for fixing to the main building structure. This arrangement is ideal for retro-fitting to existing roofs with straightforward installation, particularly as part of an overall refurbishment programme.
The posts contain an energy-absorbing coil that limits load transfer to the roof panel, which then remains undamaged in the event of a fall. The system works in conjunction with the roof itself - not the building structure. Critically, constant force systems must be specifically designed for, and tested in conjunction with each particular roofing system, and endorsed by the roofing system manufacturer. At present, the existing test standard has been outgrown by this latest technology and cannot be applied to constant force systems. This situation is being addressed with new testing regimes being developed by industry bodies.