Kee Klamp, one of the world's leading Safety Solutions Suppliers, launches new adjustable elbow.
Market leader, Kee Klamp Ltd, has extended its successful range of corrosion-resistant Kee Lite fittings with the addition of the LB54-66 - an adjustable elbow fitting, designed to help make tubular structure assembly quicker and easier.
The LB54-66 fitting provides an in-line angle connection, variable from 45 to 200 degrees, for use with standard size 6 (33.7mm O/D) diameter tube. Because the fitting is adjustable through this range, it ensures swift assembly of guardrailing and other tubular structures when installation is taking place in a multitude of applications.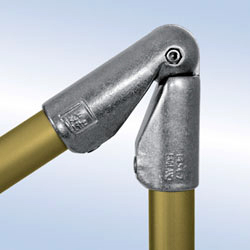 Like all fittings in the Kee Lite range, the LB54-66 is manufactured from an Aluminium Silicon Magnesium alloy making it strong yet light, and extremely durable even in harsh environments.Kee Lite fittings require no welding, threading, or drilling to install, thus providing a cost-effective and labor-saving alternative to welded solutions. Using these lightweight fittings, architects, contractors and end-users can design and build, then change and extend tubular structures simply and cost-effectively. With their bright aluminium finish, unique contoured design and discreetly positioned set-screws, installations featuring these innovative Kee Lite fittings also benefit from a more aesthetically attractive finish.
The Kee Lite range is available to suit a wide range of projects including guardrailing, staircase and ramp handrailing, barrier protection, balustrading, retail display, lighting grids and much more. Like all Kee Lite fittings, the new LB54-66 can also be powder coated in any RAL colour, if required.
As well as Kee Lite, the DDA 500 series of fittings and the Kee Klamp galvanised iron fittings range, Kee Klamp Ltd also produces tubular solutions for roof edge protection with its popular KeeGuard system, and for interior or exterior balustrading and handrailing applications with its Keenect system. Kee Klamp Ltd provides a full technical advice and design support service and is supported by a nationwide network of distributors.