Australia's largest contractor acquires a 45% stake in Al Habtoor Engineering.
Leighton Holdings Limited today announced that it was merging its Leighton International operations in the Arabian Gulf with Al Habtoor Engineering and acquiring a 45% stake in Al Habtoor - Leighton by investing approximately A$870 million (US$ 710 million). Al Habtoor - Leighton will immediately become one of the region's largest multi-disciplined contractors.
Al Habtoor Engineering will provide Gulf Leighton with a significant increase in capacity to enable both parties to fully capitalise on the numerous opportunities in the Arabian Gulf market, particularly in the United Arab Emirates.
Chief Financial Officer, Mr Scott Charlton, said he was delighted to be aligning the Leighton Group with Al Habtoor Engineering, one of the leading construction contractors in the Gulf.
"Al Habtoor is regarded as one of the leading builders in the region. Their track record in large-scale building projects is second to none and this complements our expertise in large-scale civil infrastructure projects," said Mr Charlton.
"Al Habtoor Engineering has undertaken a substantial number of large-scale construction projects across the region, including high-rise commercial and residential buildings, hotels, airports, universities and infrastructure projects. It built Dubai's iconic Burj Al Arab, the world's tallest hotel, and is in the process of tendering for an additional A$4 billion of work.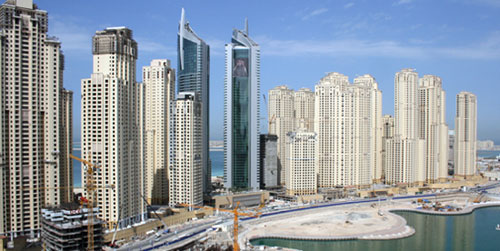 "Leighton International will have equal Board representation on Al Habtoor - Leighton and Managing Director of Leighton International, Mr David Savage, will assume a direct role in the day-to-day management of the new business, alongside Al Habtoor's current Chairman and Managing Partner, Mr Riad T Al Sadik. Leighton has the option to acquire further shares in the future.
Speaking of the transaction, Mr Al Sadik said this is a key strategic move that lays the perfect ground for further expansion, not only in the region but also in North Africa and further afield.
"We were looking for a strong partner to help us continue our growth in our core markets and into surrounding geographic markets. Leighton has the size, technical capability and financial strength to be that partner and this will help both of us to achieve more than we could have done on our own," said Mr Al Sadik.
Managing Director of Leighton International, Mr David Savage, said that Leighton's presence in the Gulf construction market would now be substantially strengthened.
"Since establishing Gulf Leighton just over two years ago, we have secured a number of iconic projects including the Al Shaqab equestrian centre in Doha, Qatar and the Saadiyat Island Expressway in Abu Dhabi. Leighton International has developed a considerable presence in the Gulf region in its own right but this investment provides us with a quantum leap in one of the world's fastest growing construction markets," said Mr Savage.
"The opportunities in this region are enormous. The 2007 United Arab Emirates (UAE) Yearbook suggests that more than A$120 billion will be invested over the next four to five years on infrastructure projects in Abu Dhabi alone," said Mr Savage.
"The partnership with Al Habtoor provides us with the increased capacity we require to really capitalise on the huge number of opportunities available. The unique strengths that each company brings will enable all parts of Al Habtoor-Leighton to grow and produce strong results. Al Habtoor has a highly qualified, experienced and professional team with a multi-national workforce in excess of 25,000 employees, and market-leading capability in major building projects," he said.
"In line with the increased focus on the Arabian Gulf region, Leighton International will move its corporate headquarters from Kuala Lumpur to Dubai. Over the past two years, the centre of gravity of our business has moved westward from South-East Asia to India and the Gulf.