Empower and Logstor to build the UAE's largest pre-insulated pipe manufacturing facility.
Emirates Central Cooling Systems Corporation (EMPOWER), Dubai's leading district cooling company and LOGSTOR, the world's largest manufacturer of pre-insulated pipes, and the today announced a joint venture, Empower LOGSTOR, to set up the UAE's largest pre-insulated pipe factory.
Empower will hold 51 per cent with LOGSTOR taking the remaining 49 per cent stake in the venture, that will become operational next year. Empower LOGSTOR will help service the critical demand for high quality pre-insulated pipes, especially for district cooling, which is increasingly being seen as the most energy efficient, safe, proven and environment-friendly solution to cool buildings.
Saeed Al Tayer Empower Chairman, said: 'This joint venture, with a capital investment of US$25 million, is a new opportunity for Empower to achieve backward integration. It will also consolidate our status as a leading regional player in pipeline systems. The new venture will meet the industry's primary requirement for pre-insulated pipes. Our partnership with a major global brand will help us expand Empower's reach beyond the region.'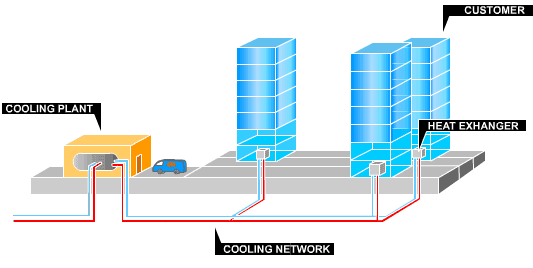 The size of the regional pre-insulated pipe market is expected to exceed US$1.5 billion over the next five years. Total installed district cooling capacity in the Gulf region is expected to reach 9.6 million refrigeration tonnes (RT) by 2010, against 745,000 RT in 2005, according to a recent industry study. The UAE alone is expected to account for more than four million tonnes RT by 2012.
Ahmad Shafar, CEO of Empower and Chairman of the joint venture, said: 'The new company has been formed following an ongoing strategic review by Empower to ensure the supply of world class quality district cooling plants and pipe networks. It will meet the demand for hundreds of kilometers of pre-insulated pipes needed for the region's future district cooling needs.
'Within a short period, we have been able to secure our status as Dubai's leading district cooling company. We are now taking our first step towards ensuring that we become the region's number one company for district cooling.'
Ole Andersen Chairman of LOGSTOR, said: 'We are looking forward to combining the visions of our two companies and contributing to the increased use of district cooling. This joint venture holds a huge potential for the environment in terms of helping to lower CO2 emissions.'
Preben Tolstrup, CEO of LOGSTOR, said: 'District cooling is over 50 per cent more efficient than conventional air conditioning solutions. It also removes the heavy load on the electricity grid when demand for cooling shoots up.
'District cooling offers the potential of being combined with electricity generation by transforming surplus heat into efficient and low-cost cooling. In other words, district cooling is the most eco-friendly technology in meeting the world CO2 reduction targets. We believe the global growth in district cooling systems will be huge in the years to come, and this venture is a first significant step in realising that.'
EMPOWER handles projects for several prominent clusters including the Dubai International Finance Centre (DIFC), Dubai Healthcare City, City of Arabia and Business Bay. It also provides 60,000 refrigeration tonnes (RT) to Jumeirah Beach Residence, the impressive 22 million square feet development spanning 1.7km, featuring 36 residential towers, four hotel towers and beach clubs.