Bee'ah - the Sharjah Environment Company - launches recycling in Sharjah Commercial Towers.
Bee'ah, the Sharjah Environment Company, today launched their 'Commercial Recycling Program' allowing businesses in Sharjah to recycle their office waste. The first initiative of its kind in the United Arab Emirates, is being tested by the Al Batha Tower on the Sharjah Corniche.
Mr. Samer Kamal, Managing Director, Bee'ah, The Sharjah Environment Company said, "The Bee'ah Commercial Recycling initiative focuses on three basic principles that provide a comprehensive approach to environmental education and recycling adoption in the commercial sector. Reduce - waste prevention, or 'source reduction', by consuming and throwing away less; Reuse - reusing items where possible; and Recycle - turning materials that would otherwise become waste into valuable resources. The efforts of Al Batha Tower are just the beginning of a much larger movement that will help control waste management costs.".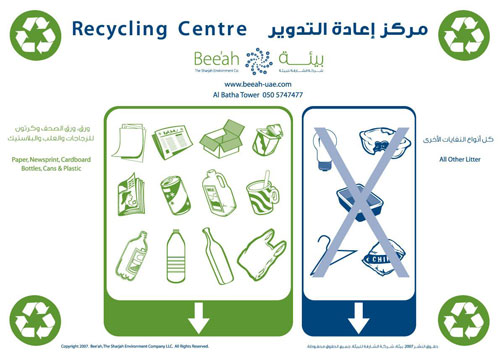 Instructions for office workers in Al Batha Tower on how to recycle.
Beatrice Hissette, Leasing Manager at Al Batha Tower said, "Al Batha Tower is proud to be part of this pilot recycling scheme, teaching tenants, staff and the general public visiting our building to be good stewards of the earth. The Bee'ah Commercial Recycling Program will help us evaluate everyday business choices from an earth-friendly perspective and ultimately create a healthier environment for our building community and the emirate as a whole."
The recycling initiative is easy for all tenants to join. Office workers are not required to sort or separate recyclable materials. All recyclable materials can be mixed together in a single recycling container which is provided free of charge. This helps ensure maximum participation, reduces the number of trucks needed to collect recyclables, saves on costs, and cuts down on air pollution.
Throughout the week, tenants drop their recyclables into the waste chutes where they are specially collected by Bee'ah, The Sharjah Environment Company. These recyclables are then transported to a secure facility where they are sorted, weighed, and stored in the short term. The recycled material collected will be audited and data will be captured to determine the various types and quantities of material collected.
The Bee'ah Commercial Recycling Program will be implemented in multiple phases over the next several years and once fully operational the recycling program is expected to divert approximately 400,000 tons of waste from Sharjah landfills per year.
The initial two month pilot phase that is being trialled by Al Batha Tower will provide valuable data required for Bee'ah The Sharjah Environment Company to close local landfill sites and set up large scale recycling centres.
Recycling facts and figures:

The average UAE resident uses seven trees a year in paper, wood, and other products made from trees. With an estimated population in the UAE of 4.4 million in 2007, that is 30,800,000 trees consumed by the population in the UAE.
The average household throws away 13,000 separate pieces of paper each year. Most is packaging and junk mail.
Each ton (1000 kilograms) of recycled paper can save 17 trees, 1132 litres of oil, 2.3 cubic meters of landfill space, 4000 kilowatts of energy, and 26,600 litres of water. This represents a 64% energy savings, a 58% water savings, and 27 kilograms less of air pollution!
Plastic bags and other plastic garbage thrown into the ocean kill as many as 1,000,000 sea creatures every year!
Recycling plastic saves twice as much energy as burning it in an incinerator.
About one-third of an average dump is made up of packaging material!
Every year, each UAE resident throws out about 125 kilograms of organic garbage that can be composted.
On average, each one of us produces 3.4 kilograms of solid waste each day. This adds up to over a ton of trash per person, per year.
A typical family consumes 689 litres of soda, 110 litres of juice, 394 litres of milk, and 100 litres of bottled water a year. That's a lot of containers - make sure they're recycled!