Third largest aerial work platforms manufacturer worldwide open subsidiary in Dubai.
The Haulotte Group, Europe's biggest supplier of people and material lifting equipment, will open a new subsidiary in Dubai later this month to coincide with the launch of an important new Middle East construction industry event. Haulotte Middle East FZE will be officially introduced at the Big 5 PMV, the five-day exhibition which is linking suppliers of plant, machinery, construction vehicles and equipment with key buyers from across the region and overseas.
The world's third largest people and material lifting equipment specialist is expanding its presence in the Gulf in response to a booming regional economy and an increasing demand for safe working platforms on construction sites. Haulotte Middle East FZE will cover Middle East and the Magreb countries in North Africa, where the construction market is growing at an unprecedented pace.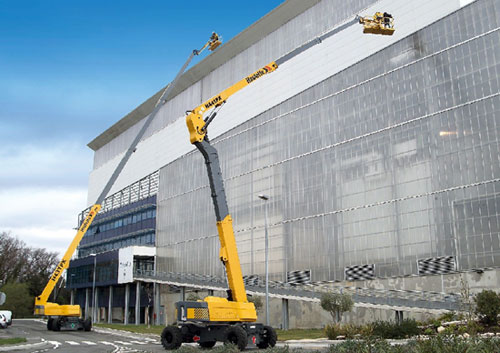 The Haulotte Group's aerial platforms and telehandlers are designed to assist and ensure the
safety of people who work at heights.
The market for lifting platforms has been steadily growing in the United States and Europe since the introduction of safety laws and regulations, such as the European Directive on Machinery 1997 which made platforms a standard working tool.
As companies around the world revised their safety procedures and introduced new equipment for people who work at heights, the Haulotte Group grew rapidly. The company has over 1800 staff and a turnover of USD$ 749.1 million in 2006. They have expanded their international presence with five manufacturing plants in Europe and 17 sales subsidiaries throughout five continents, making Dubai its 18th.
"The Middle East is a key area for Haulotte Group," said Arthur Danelian, Manager of Haulotte Middle East. "Strong Relationships have been created with the market here and we are participating in the Big 5 PMV to deepen these relationships and create new business contacts. We have been working in this region for a few years now and hope that a higher level of safety requirements will apply to Middle Eastern countries in the near future."
The Haulotte Group's range of aerial work platforms includes electric and diesel scissor lifts, telescopic and articulated booms and diesel telescopic handlers. The Group currently delivers around 1,000 machines per year to the Middle East and hopes the new subsidiary in Dubai will enable them to expand their operations and increase this figure.