Intersec Trade Fair and Conference to take place in Dubai from 18th to 20th January.
Brigadier Dr. Mohammed Ahmad bin Fahad, Director General of Dubai Police emphasized the role of crisis preparedness and its impact speaking at a press conference organised by Epoc Messe Frankfurt to announce the launch of Intersec Trade Fair and Conference 2009. The event will take place at Dubai International Convention and Exhibition Centre from 18th to 20th January.
Speaking to reporters at the venue, Dr. Bin Fahad thanked HH Sheikh Majid bin Mohammed bin Rashid Al Maktoum, Chairman of Dubai Culture and Arts Authority for his patronage and support of the event.
Dr. Bin Fahad will be delivering the keynote address on the subject of 'Crisis and Risk Management' at this year's Intersec Trade Fair and Conference on 18th January. As many as 65 renowned international security experts and officials will be speaking at this year's conference. Brigadier bin Fahad said: "Crisis is a fact of life and how an organisation or a country prepares for crisis determines its eventual impact."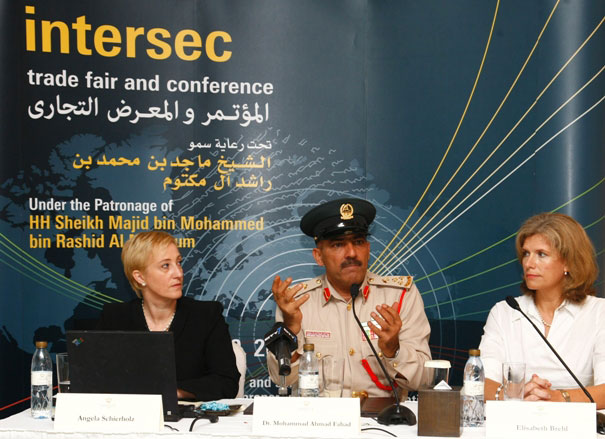 Intersec International Trade Fair and Conference 2009 is the world's largest Security, Fire, Safety & Health and Police & Homeland Security exhibition outside Europe.
Speaking on behalf of Epoc Messe Frankfurt, Managing Director Elisabeth Brehl said, "We would like to express our sincere thanks to Dubai Police and Dubai Police Academy for their outstanding support and guidance."
Ms Brehl added: "Messe Frankfurt is renowned the world over for its professional delivery of industry-focused platforms for companies to meet and do business. Our successful portfolio of around 112 annual trade fairs and position as the world's second-largest organizer globally is testament to our track record in matching the products and services of over 64,000 exhibiting companies to around 3.5 million buyers every year."
"Messe Frankfurt's legacy of more than 760 years of organizing exhibitions, congresses and conferences means that we are uniquely well-placed to assist our many customers in achieving their business goals," Ms Brehl remarked.
Ms. Angela Schierholz, Senior Show Manager of Intersec Trade Fair and Conference said: "Intersec is the largest and most comprehensive event of its kind in the world outside Europe. The Dubai event spreads over eight halls covering 420,000 square feet with 700 exhibitors from 50 countries displaying their products."
"This event is the annual networking event for policy makers in the Gulf and Middle East countries involved in homeland security, civil defence, occupational health and the field of information security and is an annual fixture for people in the industry to conduct business," remarked Ms Schierholz.
She noted that the three-day event is likely to result in business for all participating exhibitors. We are anticipating an attendance in excess of 20,000 trade visitors from 100 countries based on feedback from our pre-registered visitors.
The conference programme will have experts, academics, security officials tackling diverse subjects such as terrorism and counter terrorism, rogue financing, piracy at sea, information security, construction safety, fire safety and homeland security and other related subjects.
There are four focused areas within the Intersec exhibition, to allow buyers to navigate the show more easily and source the products and services. The four sections are: Commercial Security & Information Security, Homeland Security, Policing, Fire and Rescue and Safety & Health.