Innovative solar shading device to reduce high-rise CO2 emissions by 30%.
International professional services company GHD has developed a landmark concept to radically cut energy use in high-rise buildings. The external shading system sits like a skin on the outside of a building, moving around on tracks to shield the sun while still allowing daylight to penetrate.
Made from a lightweight frame incorporating photovoltaic cells, the sunshield:
Reduces the energy required to light and cool the building by 30 percent;
Produces enough energy to power the movement of the shade and provide up to 10 percent of the building's remaining power needs;
Is made from a simple and cost-effective series of modular panels, which can be removed individually without compromising the whole system; and
Incorporates a guide rail at each floor level to provide both structural support and access for cleaning and maintenance.
The concept was developed through GHD's innovation program, which invites the company's 6,000 people to submit, collaborate and vote on ideas and provides a transparent, formal process through which their innovation can be recognised and acted on.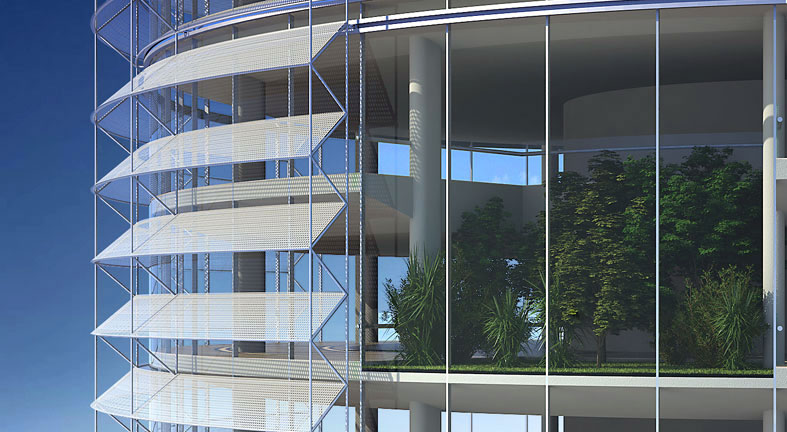 The solar shading device was submitted by Martin Hay, Architecture Manager in GHD's Doha office, and developed and tested in collaboration with the company's Brisbane and Melbourne offices.
In the Middle East where summer temperatures can soar past 48C accompanied by weeklong dust storms, keeping homes and offices cool and well lit can consume up to 70 percent of the total power use for a building.
Mr Hay said: "To create truly sustainable cities, shading needs to be an integral part of any infrastructure to reduce the need for air conditioning and lighting in the first place.
"Hot countries have traditionally regulated temperatures using a combination of anti-sun glazing, internal blinds and air-conditioning. However, blinds do not stop the heat from passing through the glass façade and being trapped within the building, and reflective glazing systems increase the need for artificial lighting.
"We have estimated that if you mounted the sunshade system on a 40,000 m2 tower, 40 floors high, the shade could reduce CO2 production by 600 tonnes and generate 1,000 Megawatt hours of power a year."
The idea spiked interest in the construction industry after Mr Hay presented it at a Building Materials' Construction & Technology Congress in Kuwait City.
The sunshade concept has the potential to support sustainability objectives in the Middle East, as well as northern Australia, South East Asia, Africa and Central and South America.
GHD will conduct in-depth studies with selected manufacturers to refine the concept and explore the potential for transference of electricity generated to the grid, and an integrated water-based cooling system powered by the shield to further reduce air-conditioning.
Launched globally in 2008, GHD's innovation program has already seen 1200 ideas submitted with more than 30 being progressed to the funding stage.