Abu Dhabi unveils new Capital City District.
Details of the massive new government and economic district for the capital of the United Arab Emirates was unveiled today Sunday 19 April in the presence of His Highness General Sheikh Mohammed bin Zayed Al Nahyan, Crown Prince of Abu Dhabi and Deputy Supreme Commander of the UAE Armed Forces.
A model of the Capital City District project is the centrepiece of the stand of the Abu Dhabi Urban Planning Council at Cityscape Abu Dhabi, the real estate and investment exhibition and conference, officially opened by Sheikh Mohammed. The Crown Prince was briefed by officials of the planning council on the project during an extensive tour of leading exhibitors at the show.
Work starts on the 4,900 hectare Capital City District in 2012 which, once completed, will serve as the government and economic centre for the UAE. It is planned as a sustainable, mixed-use city for 370,000 residents as well as federal government buildings, major universities, hospitals, embassies and international institutions.
"The Capital City District represents a once-in-a-lifetime opportunity to create a truly authentic and sustainable modern Arab capital," said Falah Al Ahbabi, General Manager of the Urban Planning Council. The district, close to Abu Dhabi International Airport and Mohammed bin Zayed City, is planned to be linked by grand boulevards, shaded streets, open space and a world class public transport system.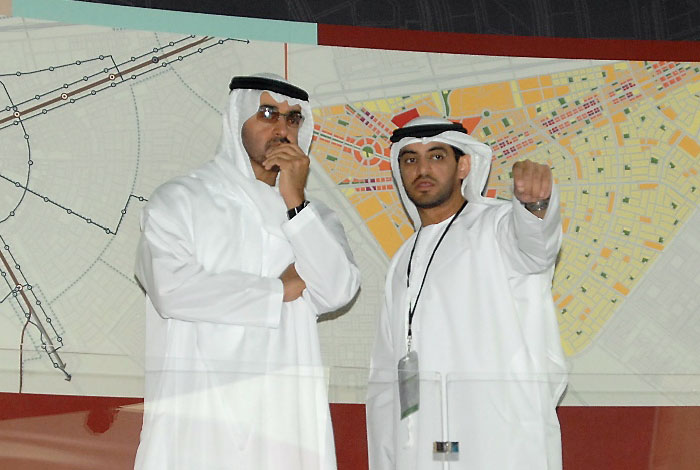 Cityscape Abu Dhabi, which runs until Wednesday, 22 April 2009 at the Abu Dhabi National Exhibition Centre, brings together investors, architects, designers, developers, government authorities and key decision makers involved in the design and construction of public and private real estate developments.
The show, bigger than last year despite the market downturn, takes up nine halls plus the atrium of the centre with more than 40,000 square metres of exhibition space. - 10,000 more than 2008. More than 300 companies are participating with virtually all major developers represented.
"Abu Dhabi, like other markets, may be feeling the effects of a slowdown but the measured approach to development and the full backing of the government means there are excellent growth prospects and a positive future outlook here in Abu Dhabi," said Rohan Marwaha, Managing Director of the Cityscape series of events organised by IIR Exhibitions.
"Nevertheless, we can expect to see greater emphasis in future on regulatory frameworks, transparency and, perhaps, more time to sit back and carefully evolve strategies for the future," he added. "Indeed Cityscape Abu Dhabi, our first event of 2009, will serve as the benchmark for the industry as we move further into the year."
Other Cityscape events organised by the Middle East offices of IIR Exhibitions, include Cityscape Asia, Cityscape Dubai, Cityscape USA, Cityscape Latin America and Cityscape India. In recognition of the growing international stature of Cityscape – now established as the biggest global business-to-business real estate and investment event – a new brand identity was unveiled at Cityscape Abu Dhabi.
Bahrain-based strategic brand consultancy Unisono, were chosen by Cityscape to create the new brand identity. "Unisono helped us to create a more corporate, consistent and integrated approach, building a stronger foundation for future growth," Marwaha said.
Running alongside the Cityscape Abu Dhabi exhibition is the Real Estate Finance and Investment Conference featuring more than 100 speakers from the world's leading finance, investment and real estate companies.
Cityscape Abu Dhabi 2009 has received widespread backing from industry leaders. Headline sponsor is Mubadala Real Estate and Hospitality; Platinum sponsors are Aldar, Sorouh Real Estate, Al Qudra Real Estate, The Land Real Estate Investment and Development Company, Qatari Diar Real Estate Investment Company, and Burooj Properties; Investment sponsor is Abu Dhabi Investment House; Associate sponsor is the Abu Dhabi Department of Municipal Affairs. Gold sponsor is Tameer and Al Maabar; Silver sponsors are Aqaba Development Corporation and HSBC. The sponsor of the Real Estate Finance and Investment conference is Brand Experience. International Broadcasting Partner is CNN International and regional broadcasting partner is Al Arabiya.