First Monorail system in the Middle East takes first paying passengers.
Nakheel officially opened the Palm Monorail to the public at a ceremony held at Gateway Station, Palm Jumeirah Thursday April 30, 2009. Mr. Marwan Al Qamzi, Executive Managing Director of Nakheel Southern Projects, and other Nakheel officials were joined by honored guests Nazek H. Al-Sabbagh, Trakhees Managing Director, Mr. Amair Saleem Director of RTA Safety Regulation & Planning Department, and Col. Abdulla Ali Abdulla Al Ghithi, Deputy Director of Protection & Security at Dubai Police.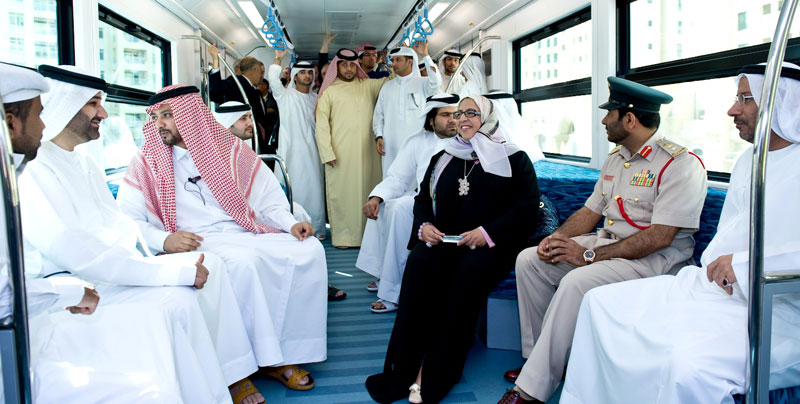 The monorail, which is the first transport system of its kind to open in the Middle East, is now running four trains between the Gateway Towers and Atlantis stations, with a capacity of 2,400 passengers per hour per day. The service runs from 8:00am-10:00pm daily with tickets costing AED15 for a single journey and AED25 for a round trip. The system will be increased to a total of nine trains per hour with a capacity of 6,000 passengers per hour per day once connected to the Dubai Metro.
Marwan Al Qamzi, Executive Managing Director of Nakheel Southern Projects comments: "It is a very exciting day for us. The Palm Monorail is now open to the public after months of rigorous testing and trials. The opening is a significant step in the creation of a fully integrated public transport system for Dubai."
State-of-the-art technology has been employed to overcome a number of challenges including running 1,000m of rail over-sea, meeting Dubai's unique climatic conditions, and protecting the communities of Palm Jumeirah from noise pollution by using a virtually silent track system.
Developed by a consortium of leading international companies, led by the Marubeni Corporation, the Palm Monorail's system is fully automatic and driverless, although an attendant will be on board at all times. The monorail will initially carry up to 2,400 passengers per hour per direction in four separate trains, each made up of three cars. At full capacity, the figure will rise to a maximum of 6,000 people in nine vehicles. Palm Monorail will connect to Dubai Metro and is able to increase its capacity to nine trains carrying 6000 passengers per hour per day.