50 new technologies and innovations showcased at Airport Show
The 19th edition of Dubai Airport Show, the world's largest airport exhibition, witnessed the showcasing of new technologies and innovations in the aviation industry.

More than 50 new technologies and innovative products and services were unveiled on the first day of the three-day exhibitions with participation of 375 exhibitors from 60 countries at the Dubai International Convention and Exhibition Centre (DICEC).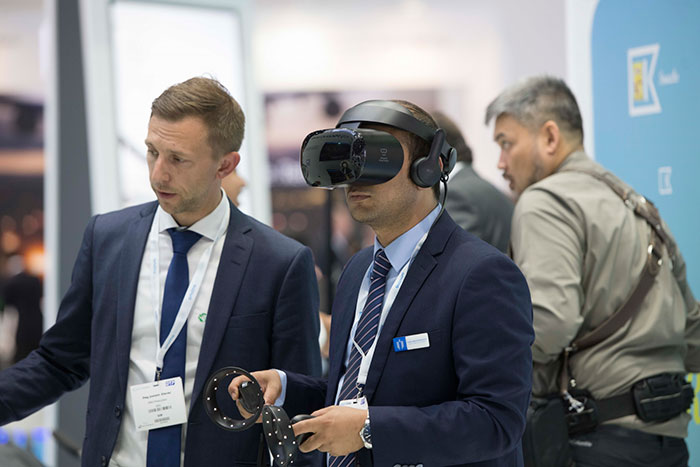 Smiths Detection unveiled Hi-Scan 6040 CTiX security screening system that uses computed Tomography technology for cabin baggage. The advanced detection capability offered byt CT eliminates the need to remove electronic devices and liquids from hand baggage.

"This means passengers need not take out their laptops and bottles with liquids while screening at the airports," said Tom Squier, Smiths Detections Managing Director for Middle East.
Smiths Detection also showcased the next-generation portable desktop system, the Ionscan 600, to detect and identify trace amounts of explosives.

ADP Ingénierie, involved in designing greenfield airports and maintenance, unveiled a Baggage Handling System (BHS) system design using virtual reality meant for airport operators who are willing to see in term of design, to see the end results of what they are designing. The technology can be used for optimising the existing systems.

The system can optimise the operations of bagging handling of passengers through virtual reality, said Philippe Martinet, Deputy Managing Director, ADP Ingenierie.

Twenty companies are participating under the Swiss flag, showcasing cutting edge technologies. Chris Watts, Consul General of Switzerland, said Swiss companies have contributed to the development of the region.

The prominent Swiss company participating at the show is EuroPoles, which unveiled a unique loading system, has recently signed a deal with Dubai Airports for the calling points systems and energy saving systems.

Nokia is showcasing its innovative technologies, along with managed services for building highly reliable and secure mission-critical domestic as well as international aviation networking. These technologies help both airports and Air Navigation Service Providers (ANSPs) meet key regulatory and unique network communications upgrade challenges.

Kamal Ballout, head of the TEPS MEA and Global Energy Segment, Nokia, said: "As ATC infrastructure forms a critical foundation for the aviation industry, one of the most important aspects is to ensure the support of legacy applications and services while moving toward an IP environment. Nokia has helped many ANSPs overcome these legacy application support issues with robust network solutions allowing seamless connectivity and reduced costs."

ITW GSE is launching its new battery powered Nissan leaf battery packs for GPUs (ground power units) to support the green airports and a better working environment for the airport staff. A battery powered 400 Hz unit that will help airports reduce their carbon foot print, replacing their diesel powered GPUs by clean eGPUs.

David Feuga, Sales Director, Middle East and Africa, ITW GSE said: "The challenges are congested airport, flexible infrastructures, carbon emissions control, noise, health and safety for operators in the ramp."

DFS Aviation Services is showcasing the PHOENIX WebInnovation System. This web-based cloud solution enables air traffic controllers to use PHOENIX tracker not only at their controller working position but also anytime and anywhere. The product targets ANSP's, airports and airlines as well as any other stakeholder involved in ATM.

"We believe that airports will have to tackle positive challenges like growth and expansion. We look forward to strengthening DFS Aviation Services in the UAE and Middle East market as a competent and reliable partner for ATM and consultancy," said Oliver P Cristinetti, General Manager, DFS Aviation Services.

Saudi Ground Handling Services (SGS) is studying some projects outside Saudi Arabia, with different partners from these countries.

"With Vision 2020 and Vision 2030, we have lots of changes in the government to open up the tourism industry to make it attractive for foreigners. There are big expansion plans at the airports," said Abdullah Marie Al Ghamdi, Director, Commercial, Saudi Ground Handling Services.

"We are implementing a new system, InForm system, which will link manpower, rostering and equipment. It is an IT solution linking planning, equipment, manpower which will give real-time of equipment needed. This we are implementing in Jeddah and later will be used in other airports," he said.

Ground Handling Logistics of Saudi Arabia showcased their PRM (Passengers with Restricted Mobility) technology. PRM products and equipment give special care for people with special needs.

"We try to provide all equipment and system to make all the airports accessible for passengers with special needs," said Yasser Kusibati, Chief Business Development, with Ground Handling Logistics.

@AirportShow1 #AirportShow1 #AirportShow #DubaiAirportShow