8 Healthcare Interior Design Trends for 2021
The healthcare interior design trends of 2021 are rooted in nature and have been inspired to create a better, more calming environment for patients.

1. Custom Acoustic Paneling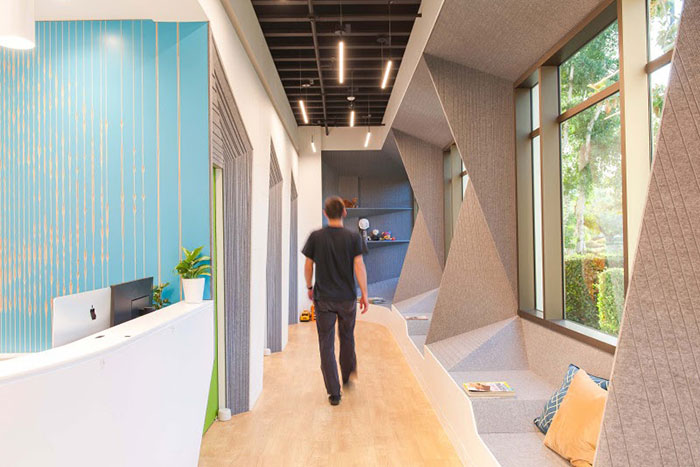 SOURCE: HTTPS://ARKTURA.COM/CREATIVE-INSTALLATIONS-FOR-ENHANCING-COMFORT-CONTROLLING-NOISE-IN-HEALTHCARE/
In a healthcare facility, noise control is paramount, but reducing noise in open areas can be quite a challenge. Any material that is used to tamper the effects of surrounding noise must be easy to clean as well as aesthetically pleasing.

One way to control noise is to integrate a wall-cladding system, like this one from Arktura, that features grooved panels to help control noise. Installed in a pediatric neurology clinic, these custom acoustic panels reduce the sounds of play and conversation as children and their parents wait for their appointments.
2. Elements of Nature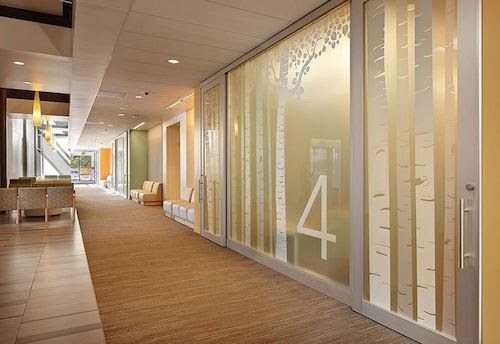 SOURCE: HTTPS://WWW.SHIELDCASEWORK.COM/HEALTHCARE-DESIGN-WITH-NATURE-IN-MIND/

Based on people's natural love of, and attraction to, living things, biophilic design seeks to incorporate natural elements in the built environment. Whether through actual living elements like potted plants and views of a nearby park or through the use of grounding, earthy colors, and art that imitates nature, the very proximity to nature and natural elements can have positive effects on our mental health and well being.
3. Vibrant Colors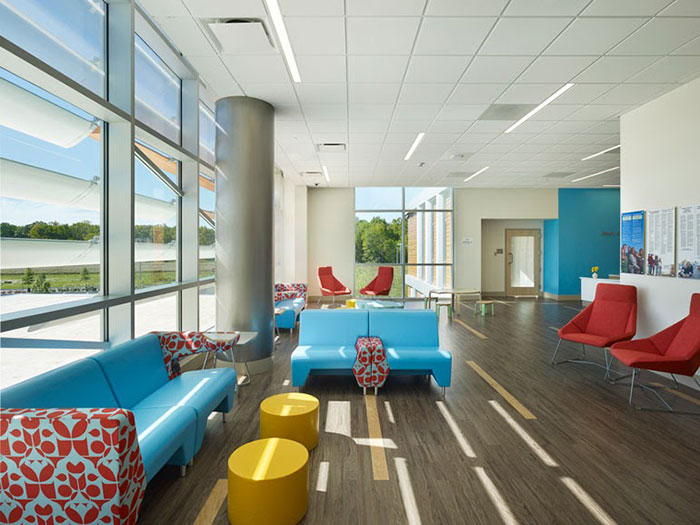 SOURCE: HTTPS://WWW.INTERIORDESIGN.NET/HEALTHCARE-GIANTS/2018/

An integral part of healthcare interior design is choosing a color palette that aligns with the healthcare facility's needs. Pediatric offices generally choose bright and vibrant colors, like this children's hospital waiting room that chose to energize the design with bright turquoise, brick red, and sunflower yellow. This creates a friendly and energetic atmosphere and brightens even a dreary day.
4. Glass Partitions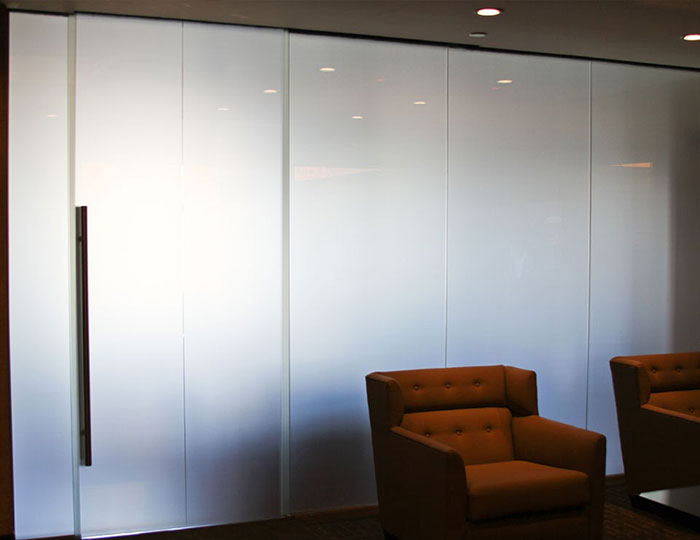 Incorporating glass partitions into healthcare interiors has multiple benefits. They create separation between spaces and are easily cleaned — a particularly appealing benefit given the COVID-19 pandemic and the need to maintain separation along with a sanitary environment. Customized frosting on the glass allows you to choose the perfect amount of privacy for your healthcare interior design.
5. Innovative Seating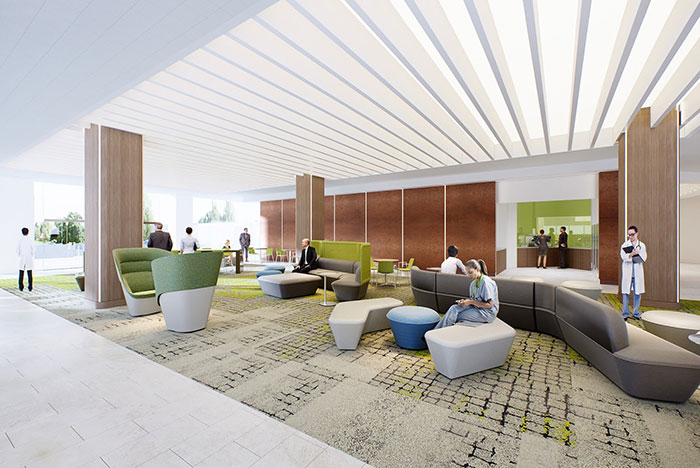 SOURCE: HTTPS://WWW.HOK.COM/NEWS/2020-01/TOP-4-HEALTHCARE-DESIGN-TRENDS-THAT-WILL-SHAPE-MEDICAL-PLANNING-IN-THE-2020S/

Innovative seating has taken the design world by storm. Schools, offices, and healthcare facilities have seen the benefits of offering a wide range of seating options so people can choose the seating that is the best fit for them. Just as our bodies are all different, so are the seating arrangements that feel the best for each individual.

People are increasingly demanding more physical spaces for rest and relaxation as the environment can play a large role in influencing mood, creating or reducing stress, and impacting behavior. Providing spaces that offer options for patients no matter their size or shape makes them feel more comfortable.
6. Ocean Inspiration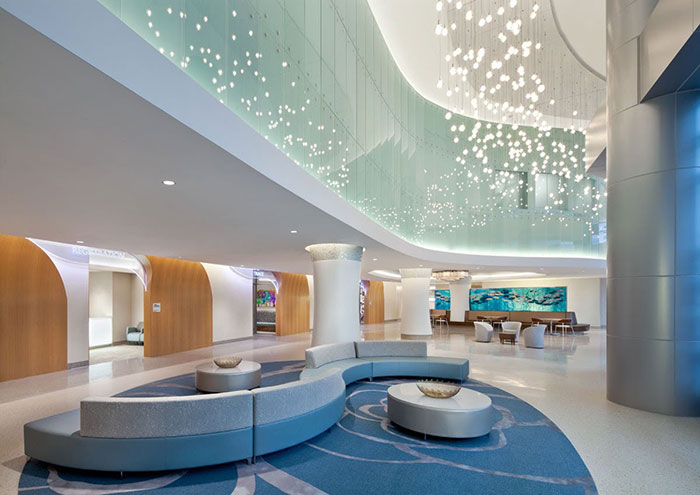 SOURCE: HTTPS://WWW.DEXIGNER.COM/NEWS/29399

In a design voted Best of Competition winner of the 2016 Healthcare Interior Design Competition, this woman's hospital aesthetic draws from the soothing colors and soft lines of the ocean. Cascading lights create the illusion of movement and natural wood touches ground the design even further in nature.
7. Japanese Influence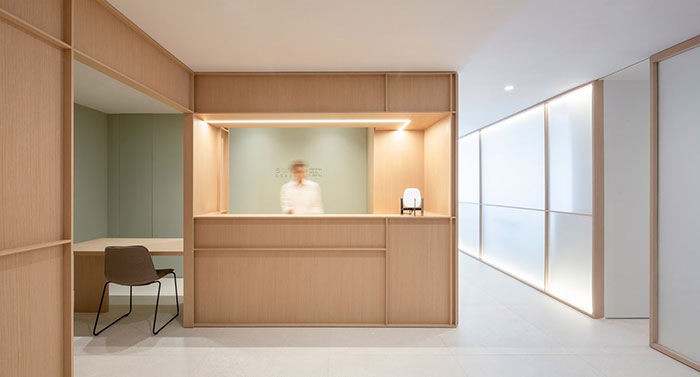 SOURCE: HTTPS://WWW.DEZEEN.COM/2019/11/15/SWISS-CONCEPT-CLINIC-FRANCESC-RIFE-MINIMALIST-INTERIORS/

Taking inspiration from Asian meditation spaces, this space sought to create an atmosphere that is light and calm. The ash-wood surfaces paired with a soothing sage green wall makes you want to take a deep breath as soon as you walk into the room. Warm lighting and translucent windows deepen the sense of calm created by this Valencia based clinic.
8. Bohemian / Mid-Century Modern Inspiration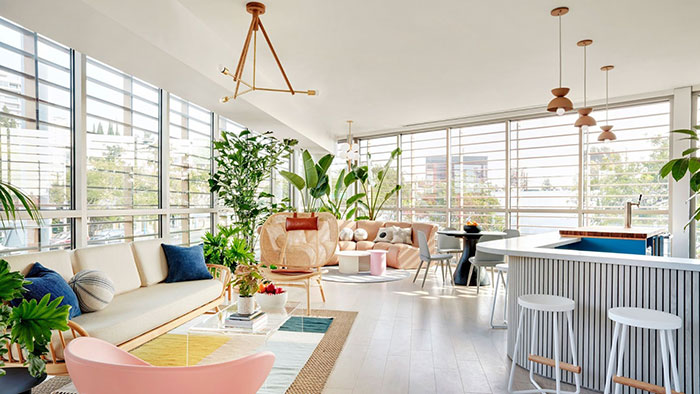 SOURCE: HTTPS://WWW.ARCHITECTURALDIGEST.COM/STORY/THIS-MODERN-HEALTHCARE-STARTUP-IS-USING-DESIGN-TO-HEAL

We've all been to a doctor's office that feels like it hasn't been updated since the '80s. This design is the antithesis of the outdated feel. Rather than feeling like a waiting room, this bohemian-inspired space feels more like a visit to your chic friend's living room than a trip to the doctor. The goal of this healthcare interior design trend is to create a space that calms patients before they see their doctor rather than becoming anxious waiting in the typical sterile waiting room with mass-produced floral-print seating.
Design a Healthcare Interior for 2021
Healthcare interiors have undergone a transformation from the cold and impersonal designs of the past. Healthcare design trends now favor unique and inviting spaces that make patients feel welcome and cared for before they even see the practitioner.

Incorporating one or more of these designs into a healthcare space can increase patient comfort, and designing your space with Avanti will ensure a safe separation of space where the spread of germs is mitigated.

Contact the design team at Avanti today to integrate glass partitions into your healthcare space.
@AvantiSystemUSA #AvantiSystemUSA #architecture #officedesign #interiordesign